Director/cowriter Alice Diop's riveting drama, "Saint Omer" unfolds mostly in a French courtroom where Laurence Coly (Guslagie Malanda), a Senegalese woman, is on trial for murdering her 15-month-old daughter. (Saint Omer is the region where the trial is held.) Attending the proceedings is Rama (Kayije Kagame), a professor and novelist who is writing about the case, which is based on the real-life trial of Fabienne Kabou.
Diop's film investigates what made Laurence kill her child; the film uses the trial to address immigrant lives, as well as issues of power, race and gender. It also emphasizes how the educated Laurence ended up in her situation. She attributes her actions to sorcery, which is debated about in the courtroom. Rama silently observes the trial, but it has impact on her; her own life is not unlike Laurence's; Rama also has a complicated relationship with her mother. 
Diop chatted with Salon with the assistance of French/English interpreter Nicholas Elliott, about her new film, which is France's entry for the Best International Film Oscar and is on the shortlist in this category.
I understand you developed this film from reading about the 2016 case of Fabienne Kabou and attending her trial yourself. Can you discuss the appeal of this and working from the trial notes/transcript? 
It's true that for this story, the documentary format — which was my usual format — was not possible. I needed to attend the trial to understand my own need to do this film. The documentary format would have restricted me to a quite literal approach to this particular crime. I think fiction allowed me to go much further and be more specific in revealing the issues that are at stake here, notably, very deep questions about maternity. 
I took a lot of notes at the trial, and as I took increasingly more precise notes, I realized that the raw materials for this film was going to be the language of the accused. In this language, there is an intensity of significance that is colossal. Initially, I worked from my notes and the transcript. Then, I felt the need to bring in the novelist Marie Ndiaye, who won the Prix Goncourt for "Three Strong Women." We worked on creating a dialogue between the fictional line of the character Rama and what the accused actually said and used that to say what we wanted.
Rama says in a class she is teaching that the power of narrative is to sublimate reality. Did you have this idea in mind as you told the parallel stories of Laurence and Rama? How did you employ it?
Of course. Starting the film with that text is telling us what kind of novelist Rama is. It is the only time we expose her position as an intellectual, a novelist and a professor. But, also by opening the film with those images of shaved women and from [the film] "Hiroshima, Mon Amour," it positions Rama as a kind of extension of what interested Marguerite Duras. It's not a director's statement of intent, but the echoes of Duras' interests will continue throughout the entire film.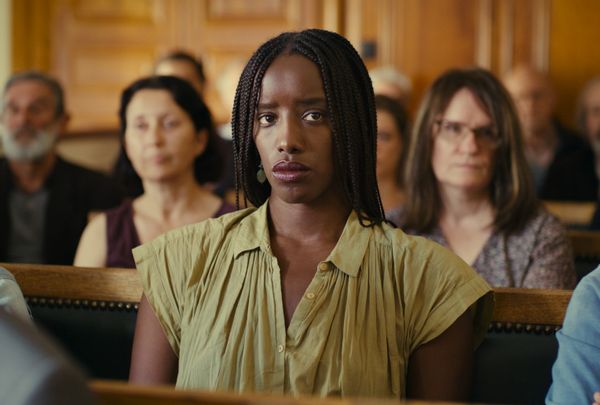 Kayije Kagame in "Saint Omer" (Neon)Can you talk about how you filmed the courtroom scenes? There are moments where you take a beat and focus on Laurence, or the judge (Valérie Dréville), or Luc Dumontet (Xavier Maly), Laurence's boyfriend, after his testimony, that allow viewers to absorb reactions to what is being said. These scenes are talky, but gripping. 
I often say what interested me with the mise-en-scene was to allow the viewer to live the experience. The character of Rama was written specifically with that in mind. She is situated, but also very open. Rama is a character that allows the viewer to watch the film in her place and next to her and experience a range of contradictory emotions in relation to Laurence, but also in an intimate way for the viewer themselves.
Rama is writing "a Madea project" about Laurence's case and there is talk about maternal instincts, but both women have uneasy thoughts about motherhood. What can you say about this issue of women's conflicted ideas about motherhood?
I wouldn't have any moral judgment or value judgment that would make me say one is a good mother or one is a bad mother. What fascinated all the women who knew about this trial and see the film, is that Laurance is expressing the darkest side of maternity, the most comfortable side of maternity and the most taboo. There are few taboos greater than infanticide. This allows us to face the dark side of maternity. It allows us, as viewers, to look at the most taboo, or the darkest side of ourselves. There is a mirror effect with Laurence and Rama, which I wouldn't describe as good vs. bad. It is more that Laurence is a mythological — though that might not be the best word — mother, the most obscure abstract side of maternity that allows us to go deep inside ourselves into the most uncomfortable places and ask ourselves about this complex relationship we have with our own mothers and children. 
"Saint Omer" is very much about Laurence's experience as an immigrant in France, and how her ambition was cut short. When she is praised for being educated and polite, I found that insulting — as if because she is a Senegalese in France, she would not be either of those things. What can you say about the film's depiction of this kind of racism?  
The reason I wanted to make a film from Fabienne Kabou's experience is because this is a very complex woman. This is a Black woman whose psyche is incredibly deep and dense, and she carries a private, social, political story that is extreme complexity. Yes, there is her experience as a migrant woman, but there is the solitude of a Black woman in a primarily white society. There is this Black woman who goes against every stereotype. She is highly intelligent and educated and she is going to take an interest in Wittgenstein, rather than a 20th century African philosopher which her professor criticizes her for. The reason I took such great care in writing and shooting this film is because the character of Laurence fills a lack of narrative that we have for these kinds of stories. There was a political necessity on my part to renew our imagination of Black women as they are shown on film. 
I can add a very personal anecdote that sheds light on why this film was made. In general, the French press in their reaction to this film was extremely positive. But the negative reviews of the film were directed not to the film itself, but to me, personally, as a Black woman quoting Marguerite Duras. They take issues that I quote Duras and Pasolini. There is a false accusation of pretention. In quite a crazy way, I'm now facing these stereotypes, projections, and unspoken racist fantasies that were projected on Laurence. Which is evidence that I was at the right place and explains why I felt the need to write this film and deal with this issue.
Likewise, there are discussions of understanding the cultural and ethological aspects of Laurence's life, such as her belief in sorcery. I felt these were judgments and excuses made to justify her behavior and actions. Can you talk about the legitimacy of this kind of thinking?
It's a rejection of cultural hybridity that has been produced by migrant experiences. Both Laurence and myself are the products of hybrid, many-faceted experiences which range from Edouard Gilssant and Aimé Césaire to Pasolini and Marguerite Duras. To lock Laurence into this thing of sorcery is to simplify her, and refuse to take into account her complexity, or to look at the multicultural aspects in us. 
The fact that people explain what Laurence did through sorcery is a way of preventing us from understanding that her act is a universal act. All people, Black and white, faced with this act lose their certainties. To say that it was sorcery is to say it was not us. What she did doesn't concern me because I can explain it by this. But, when unexplainable, that's when we really have to question ourselves; that's when you really have to go in and ask questions.
How do you want viewer to judge Laurence's case? You deliberately resist showing the verdict, but it is pretty clear what the outcome of the case will be.
The main thing I want, because I'm not a Kim Jong-il of cinema, and I don't want to force viewers to think like me, the desire is for the viewer to have an experience. He or she sees this woman, accused of killing her child, and at the end, has her lawyer give her plea. I'd like something to change for the viewer by reliving the whole experience and change his/her opinion or gaze upon this woman. I would like to disrupt this binary, unique moral view of this woman and for the viewer to interrogate him or herself and go into very personal issues and, as I did, and "liberate" questions about maternity. I can't predict or prejudge what viewers will experience, my only ambition is for them to shift or change.
This is France's Oscar entry. What is the importance of this for you?
It's an honor. I take great pride and honor having been chosen by my peers to represent them. The fact that I've been chosen with a film that questions the universality of the Black body and has that question at the heart of its reflection is a great pleasure for me, because this has been at the heart of my filmmaking from the beginning. That this film has been chosen for this honor is extremely important. I'm prepared to do everything I can to go all the way. For me, the greatest victory would be to be one of the five shortlisted titles, I would feel I have fulfilled my mission to my country. And, I am also aware that I would be the first Black woman to be nominated in the Foreign Film category, so I am entirely conscious of what this means politically, to have this opportunity to be in the race.
"Saint Omer" is in theaters Friday, Jan. 13.