"One Fine Morning" is writer/director Mia Hansen-Løve's lovely, sentimental drama about Sandra (Léa Seydoux) experiencing both heartbreak and passion. 
"One Fine Morning" offers no big dramatic moments, just tiny episodes that reveal Sandra's lived experience.
Sandra is a translator whose father, Georg (Pascal Greggory), a philosophy professor, is slowly slipping away. He has a neurological disease that has impaired his vision and is erasing his memory. It is determined that he can no longer live on his own and he must find an assisted living facility. Sandra is saddened by this not unexpected development, and Seydoux often breaks down in tears at the thought of her father — as when one of his father's students approaches her and asks about him.
Sandra, who has an amiable 8-year-old daughter Linn (Camille Leban Martins), does find some happiness when Clément (Melvil Poupaud), an old friend reappears in her life. When Sandra visits Clément in his office — he is a cosmo-chemist and shows her some boring machine — they kiss and soon embark on a love affair. While Clément is married, he explains that he and his wife are growing apart. (Sandra's husband died a few years ago and Sandra claims that she feels her love life is over.) 
"One Fine Morning" — the title refers to the name of the memoir Georg planned but never wrote — nicely captures the quotidian details of these parallel and sometimes overlapping storylines. 
Sandra helps her mother, Georg's ex, Françoise (Nicole Garcia) clean out her father's apartment. They reflect on objects from fountain pens and toy cars to Georg's extensive collection of books. There is talk about knowing the identity of a person from their library. ("One Fine Morning" is that kind of film; if such an idea seems too precious, steer clear.) 
Sandra's pain at watching her father decline is ameliorated somewhat by her romance with Clément. She felt as if she had forgotten how to make love and is amazed at how she can desire Clément so fast. They have sex at every opportunity, and at one point go to a museum just to do something other than go to bed. They don't touch in public, but then they do; Sandra and Clément simply cannot resist each other. Watching them play hide-and-seek around a hedge maze is pleasing. She is radiant, although he seems perpetually horny. Their sex is mostly discreet. It is that kind of tasteful film.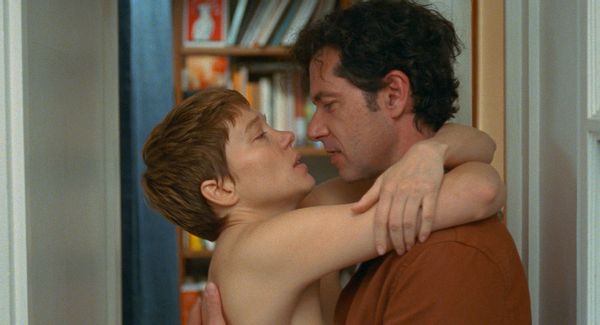 One Fine Morning (Sony Pictures Classics)
Hansen-Løve is gently guiding viewers through Sandra's life here, and it is an agreeable experience. There is a cute moment where she asks her daughter Linn for a lick from her ice cream and ends up taking the whole cone. But there is also a somber scene of an emotionally exhausted Sandra crying on a bus ride. 
Léa Seydoux gives a very delicate performance.
The subdued nature of the film is an asset. "One Fine Morning" offers no big dramatic moments, just tiny episodes that reveal Sandra's lived experience. She talks with her father one afternoon and he tries to cover the fact that he cannot see his daughter. He eventually cannot hide the truth from her. Likewise, when Clément tells Sandra that he has told his wife about their affair, and his wife kicked him out, Sandra is both happy and sad. Her first thought is: What did Clément tell his young son?
Georg's decline accelerates, and Sandra wonders how he will die. Her relationship with Clément becomes one where she is at the mercy of his availability, an unenviable position. Sandra needs to find a way back to surer ground. As this happens, poignant passages are read in voiceover about how Georg's disease has deprived him of the things that are dearest to him. It is quietly powerful.
There is a charming scene late in the film in which Sandra's family celebrates Christmas and her siblings enact a scene of Santa delivering presents while Linn and her cousins are out of sight but within earshot. A running bit involving Françoise getting involved with protests, however, seems unnecessary. 
One Fine Morning (Sony Pictures Classics)
"One Fine Morning" is marvelously acted by the ensemble cast. Léa Seydoux gives a very delicate performance as a young woman who is involved with two splintering families. She tries to hold on to the folks she loves because they give her strength. And it is touching watching her grapple with her conflicted emotions as Georg and Clément alternately please and frustrate her. 
In support, Melvil Poupaud may be playing a bit of a cad, but he is likeable enough and very warm and caring towards Linn. As Georg, Pascal Greggory nicely underplays his diseased character. It is distressing to see him hunched over during one section of the film, but Greggory does not make Georg maudlin or affected. It is why that storyline is so effective.
Mia Hansen-Løve excels at these kinds of compassionate character studies, as evidenced by her previous films, "Bergman's Island," "Things to Come," and "Goodbye First Love." "One Fine Morning" joins this cluster of exquisitely rendered dramas about the ebb and flow of everyday middle-class people.
"One Fine Morning" is in theaters Friday, Jan. 27. Watch a trailer via YouTube.