The title character in "A Man Called Otto" (Tom Hanks) is described as a "nasty bitter man" by someone he encounters, however, what others see as rude is really Otto expressing his inability to suffer fools gladly. He considers most folks "idiots" because they simply fail to prove him otherwise. 
Otto is a man who goes by the book. If he wants 5 feet of rope, then he should only be charged for 5 feet of rope, not 2 yards. If someone does not follow the rules, like locking the gate in their neighborhood, he calls them out on it. His pragmatism makes him an oddly likeable curmudgeon; Otto is a man who abides by the rule of society and expects others to do the same. His inflexibility is not obstruction, it is going by the book to ensure equality and fairness for all.
Otto is not some cranky white supremacist, nor is he a toxic man trying to force his will on to others. He is a decent and respectful senior who expects everyone else to be decent and respectful, too. And because they are not, he has more contempt than patience for them.
"A Man Called Otto" directed by Marc Foster and written by David Magee — they previously collaborated on "Finding Neverland" — is both adapted from the book "A Man Called Ove" by Fredrik Backman, and is a remake of the 2015 Oscar-nominated film of the same name. This American version (produced by Hanks and his wife, Rita Wilson) is very similar to the original Swedish film, with some slight tweaks that neither destroy nor improve upon the original. 
As the film eventually reveals, Otto is a man whose unfriendly demeanor masks a real pain. He is a widower whose wife died six months ago. He has just retired from his job as an engineer and he is planning to kill himself (hence the rope purchase) to join his late wife. 
Alas, Otto's plans to die by suicide are derailed by the arrival of new neighbors, the pregnant Marisol (Mariana Treviño) and Tommy (Manuel Garcia-Rulfo from "The Lincoln Lawyer"), and their two young children. Otto does an act of kindness for them — he helps park their U-Haul — and is rewarded with a nice meal. Although Otto wants to be left alone, his neighbors keep knocking on his door. Tommy asks to borrow an "Alvin" [Allen] wrench. They just won't go away — not unlike the stray cat that keeps getting in Otto's way. (It is, of course, no surprise that he eventually takes in the adorable animal.) 
"A Man Called Otto" depicts how Marisol helps warm Otto's cold heart, and she generates a real laugh when she mocks his unfriendly nature, "Your every word is like a warm cuddle." Treviño is terrific and a perfect foil for Hanks' misanthrope. The film delivers the feels as these characters spend more time together, helping each other and getting closer. A scene where he teaches her to drive is a highlight because he empowers her without belittling her. (And give credit to the filmmakers for not going for an easy joke of her having an accident.) A heart-to-heart that Otto and Marisol have at a café provides another poignant moment, as does a later scene where he explains why he was brusque with her.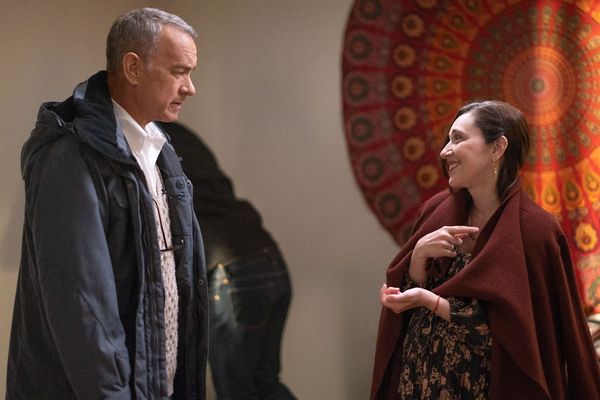 A Man Called Otto (Sony Pictures)
Otto's personality thaws because he rallies against injustice, and secretly cares about the people in his community. One subplot has him fighting a realty developer (Mike Birbiglia) who is preying on his neighbors, Anita (Jaunita Jennings) and Reuben (Peter Lawson Jones). Another storyline has Otto giving shelter to Malcolm (Mack Bayda), a young trans man who was a former student of Otto's late wife, who was kicked out of his home by his father. There are also points made about how seniors and people with disability are treated poorly that never feel forced or heavy-handed. Moreover, race is never an issue in the film, and Malcolm's transgender character is treated without shame or disgrace.
Foster and Hanks make this increasingly sentimental film go down easy. There are several flashbacks to Otto as a young man (he is played by Truman Hanks, Tom and Rita's son). These scenes are gooey, sepia-toned memories that pull hard at the heartstrings. As a young man, Otto, in a burst of uncharacteristic spontaneity, returned a book Sonya (Rachel Keller) dropped, and met the woman who became his wife. The flashbacks are treacly, but they serve to explain why Otto is so grumpy. 
---
Want a daily wrap-up of all the news and commentary Salon has to offer? Subscribe to our morning newsletter, Crash Course.
---
Viewers who give in to the film's schmaltziness will appreciate "A Man Called Otto," which even includes a joke at the irony of Otto's hypertrophic cardiomyopathy, a genetic enlargement of the heart. Marisol's reaction is infectious, and Treviño easily steals her every scene. 
Hanks' performance is also a key to the film's success. It is not just his gruff attitude and stiff body language, it is that his character is noble, justly fighting over a specific quarter with a hospital clown or saving an old man who has fallen on the very train tracks where Otto had planned to kill himself. Hanks nicely underplays here, amusing without being overly comical. And he never makes Otto saintly. A past beef Otto had with Rueben provides him with an opportunity to apologize and right things.
The messages of being kind and living right provide is an "It's a Wonderful Life" vibe to "A Man Called Otto." But this heartwarming film is exactly something someone like Otto would resist.
"A Man Called Otto" is in theaters Friday, Jan. 13.