The third episode of "Top Chef: World All Stars" kicks off with Sylwia humbly and sweetly thanking her competitors for their prowess and their friendship, noting that "the world is getting crazier" and how closely affected — as a resident of Poland — she was by the conflict in Ukraine. She notes the importance of respecting other cultures and religions, acknowledging how "some people don't have a home," and how honored she feels to be on the show and to learn so much. It's a sweet, honest moment and just as quickly, Sylwia immediately reverts to her kooky, "Potato Girl" persona, but it was refreshing to see both her genuine appreciation for her being on the show as well as her lamenting over the state of the world. 
Gail and Tom rush into the stew room to let the cheftestants know that there is no quickfire challenge and they'll actually instead be going on a pub crawl.
Now, this is a reality show in 2023 chockfull of international winners and finalists, so obviously, everyone knows this is leading up to an elimination challenge including dishes found on the pub crawl. I enjoyed seeing that reality laid bare on a show that — 15 years ago — would've pretended the cheftestants were in for a stress-free, loosey goosey afternoon, when obviously every viewer knew that that wasn't the case.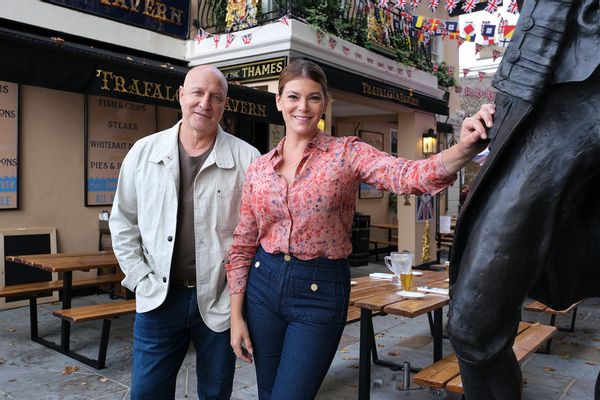 Tom Colicchio and Gail Simmons in "Top Chef" (David Moir/Bravo)
Pub crawl!
The first stop is the Lamb and the Flag, which is noted as "the most traditional pub on [our] pub crawl," and after going upstairs, the cheftestants eat fish and chips, fisherman's pie and Sunday roast as they're told about the history of that pub itself. They go on to visit another two pubs and try a sampling of other British pub classics, from toad in a hole (complete with a super funny Victoire confessional on that silly name) to bangers and mash.
The segment is levied by some fun quips from Tom (the cheftestant, not Collicchio, who's oddly quiet throughout and very much lets Gail take the forefront), a wise observation from Charbel about not drinking too much beer — since the collective understanding was that this would certainly impact the elimination challenge — and an inordinate amount of "potato girl" jokes. Sylwia also talks about her eduction, her background and her father, which immediately makes me anxious for how well she'll fare later in the episode since we are given so much Sylwia content.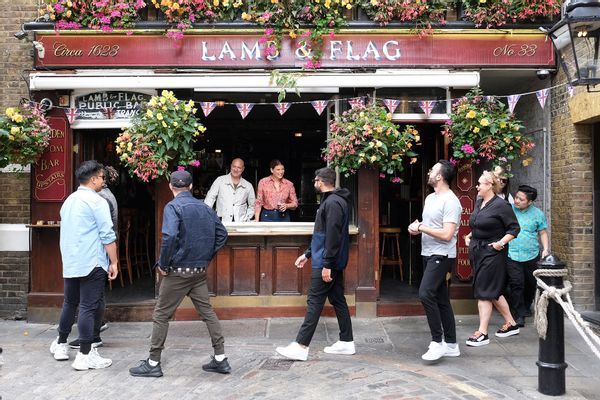 Tom Colicchio, Gail Simmons, Charbel Hayek, Sylwia Stachyra and May Phattanant Thongthong in "Top Chef" (David Moir/Bravo)
We also get our first mentions (foreshadowing!) about the incredible importance of ensuring any and all fried food is extremely crispy, deeply browned and well-seasoned. Buddha mentions his knowledge of these classics since Australian pubs also often sell similar items. I thought Charbel's inquisitiveness towards Gail as she so expertly tells the group about the ins and outs of all of these foods was sweet.
We also get our first mentions (foreshadowing!) about the incredible importance of ensuring any and all fried food is extremely crispy, deeply browned and well seasoned
The pub crawl ends at Trafalgar Tavern, when Gail tells cheftestants that there are "few things as institutionally British as pub food, so we couldn't come to London without celebrating this cuisine." The group is tasked with creating elevated versions that are modernized and reimagined iterations of the classics. The chefs each have numbers under their coasters that will pair them up in teams of two for the elimination challenge. We wind up with Tom and Sara, Begoña and Gabri, Ali and Amar, May and Dale, Luciana and Buddha, Victoire and Sylwia and Charbel and Nicole.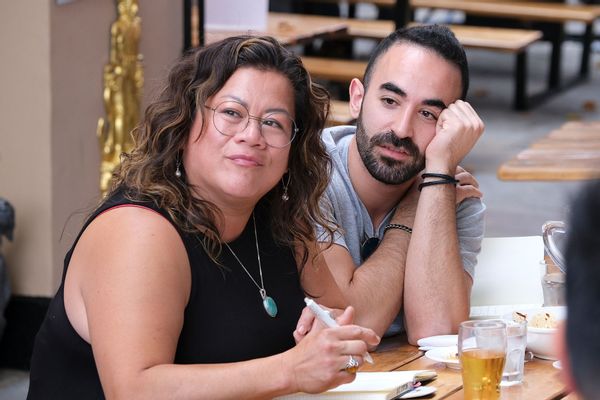 Nicole Gomes and Charbel Hayek in "Top Chef" (David Moir/Bravo)
Teams and menu planning
Literally instantaneously, though, the first pair is off to a rocky start: May and Dale cannot seem to align on a dish to pick, even when they have first pick and this sets the stage for a pairing that truly never gets off on the right foot, unfortunately. They eventually wind up going with Scotch eggs. 
Literally instantaneously, though, the first pair is off to a rocky start: May and Dale cannot seem to align on a dish to pick . . .
Charbel and Nicole aim for the Sunday roast, mainly because of the Yorkshire pudding (which Nicole refers to as a "yorkie" approximately 378 times throughout the episode), while Ali and Amar pick fish and chips. Gabri and Begoña select bangers and mash, while Victoire and Sylwia go for "toad in a hole. Tom and Sara opt for shepherd's pie and, lastly, Buddha and Luciana pick the fish pie. The chefs have two hours to cook before service starts and find out that their guest judge is Brett Graham, "the director for London's only Michelin-starred pub."
Also . . . it's a double elimination, so one entire team will go home.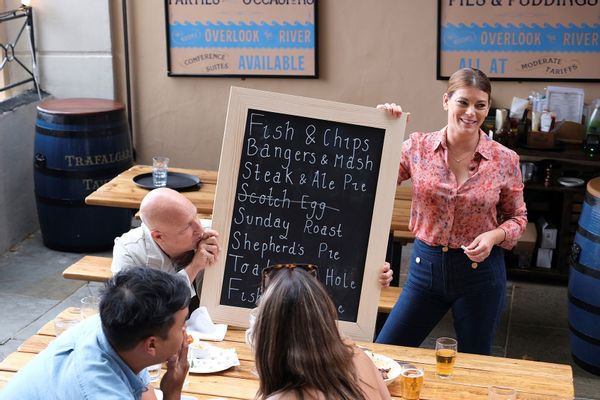 Buddha Lo, Tom Colicchioa and Gail Simmons in "Top Chef" (David Moir/Bravo)
Dale and May continue to have an oddly negative dynamic, now disagreeing on how to serve the Scotch eggs. Dale's attitude is pretty obstinate and almost reads bitter, which is weird. Dale has has seemed very capable and generally good natured thus far, so I was surprised the shift in mood the instant he was paired with May, who, unfortunately, then just kind of had to work with what was there. She notes that Dale seems to want to just stay pretty safe and not expand to anything interesting or out-of-the-box. The tension between the pair is apparent through the episode; while the rest of the cheftestants are seen jovial and talking in their respective cars, the camera lingers on a silent Dale and May sitting in the backseat. 
Regardless, all of the teams strategize for the shop and the cook for the next day, with lots of delicious-sounding plans abounding throughout.  
---
Want a daily wrap-up of all the news and commentary Salon has to offer? Subscribe to our morning newsletter, Crash Course.
---
Working and cooking together
Amar and Ali discuss their malt vinegar chips and are so incredibly supportive of one another, with Amar even saying they were "meant to be together from day one," and you can't have "one without the other," conflating fish and chips to the pairing of Ali and Amar. Sweet!
Victoire's sauce is full of cream and mustard and she incorporates African spices into the sausage while Sylwia works on a traditional potato dish called lemieszka, which is essentially a little potato cake, as the base of the team's "toad in a hole." The two are a joy to watch and stay very positive throughout. 
Luciana and Buddha run into a bit of tension over an improperly made potato puree, with which Luciana sees no issue with but to which Buddha is very adamantly opposed. His skills are on full display here with gorgeous zucchini "scales" on his fish and he also takes the time to remake the potatoes that he deems lacking in some capacity. Gabri and Begoña's dish of pork belly with bangers, mashed potato foam and onion crackers looks terrific, while Dale and May's egg yolks seem to be perfect. 
Guest judge Brett Graham and James Cochran join our favorites for the tasting at Trafalgar Tavern, noting that these foods are a real departure for some of the chefs, perhaps even feeling "stodgy or heavy" to some. Sylwia and Victoire's dish is up first and gets top marks from the judges, which was a pleasant surprise for me. Tom though it was a bit too sweet, but the dish garners no other negative feedback at all. Begoña and Gabri's beautiful dish comes next, which prompts lots of positive comments from both the diners and the judges. Padma even notes that she "practically licked the plate clean."Ali and Amar's dish sounds terrific, with seaweed battered cod, minted peas, tahini and malt vinegar chips. Everything is great, but unfortunately, the batter isn't crispy at all and is too dense.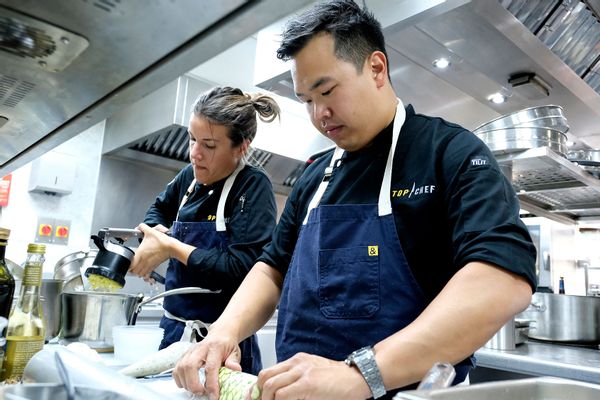 Luciana Berry and Buddha Lo in "Top Chef" (David Moir/Bravo)
Sara and Tom breezily work together, producing a truly lovely dish consisting of lamb dust, pea gel, pea puree (which obviously immediately made me think of the "pea pureee scandal" of season 7), fresh peas, lamb stock and infused carrots.
Buddha and Luciana's dish is a stunner and they each reference the "progression" of the deconstructed dish, which looks nothing like a fish pie but tastes precisely like one. Nicole and Charbel's dish of seared pork tenderloin with leek fondue, celeriac potatoes, glazed carrots and Yorkshire pudding, as well as a brown butter pork jus with apple cider is not especially celebrated, with a mention that it's more of a Monday stew than a Sunday stew, but Nicole's "yorkie" saves the day. Charbel's efforts, unfortunately, aren't applauded. May and Dale present their Thai-style Scotch egg with mint and cilantro aioli and Thai fish sauce dressing, which again has a striking, runny yolk, but the judges aren't bowled over. Yet again, a fried item is just simply not crispy enough. 
Sara and Tom also deliver probably my favorite joint confessional of the episode as Tom shakes out the tricks "up his sleeve."
Judges' table
Moments later, Padma enters the stew room (looks like a formal dining room elsewhere in the tavern) and lets the cheftestants know that she's very full, but would like to see Dale and May, Luciana and Buddha, Ali and Amar and Gabri and Begna. Interesting! It's also fun when Padma mixes up the top and bottom group announcements, but I also really thought Sara and Tom would be part of that top group. Obviously, Dale and May and Ali and Amar are our bottom, leaving Luciana and Buddha and Begoña and Gabri as the top. Begoña is on the verge of tears and is so proud of Gabri.
The judges say that the sauce was amazingly intense for only two hours, that the dish could've transported you back to a childhood memory and that the flavor was "familiar," which the guest judge fund really terrific. Buddha and Luciana's fish pie was an amazing display of technique, with beautifully cooked fish and perfectly pickled onions. Padma says that she dislikes fish pie but this dish may have singularly converted her. Gail, in a moment that perfectly encapsulates why I adore her, says that the dish "fanned out the deck of cards of fish pie flavors to really show off what they are."
Gail, in a moment that perfectly encapsulates why I adore her, says that the dish "fanned out the deck of cards of fish pie flavors to really show off what they are."
Brett announced that the winning team is Luciana and Buddha, which Buddha celebrates by noting that he is such a fan of Brett's and he "aspires to be him," which was such a meaningful moment and I'm sure resonated so much with Graham, who looked a bit verklempt after Buddha's glorifying admission.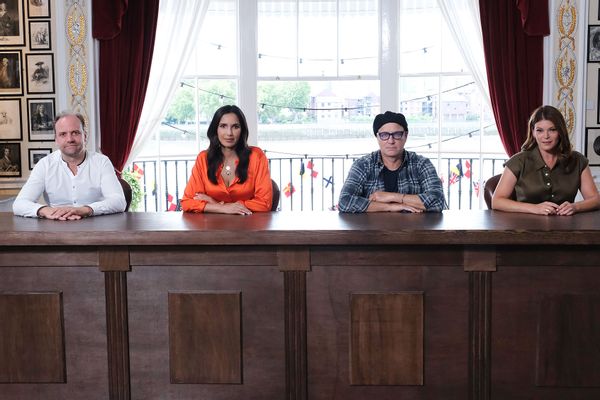 Brett Graham, Padma Lakshmi, Tom Colicchio and Gail Simmons in "Top Chef" (David Moir/Bravo)
On the flip side, unfortunately, are the bottom teams. Dale and May make their way through a predictably awkward discussion with the judges in breaking down the dish, especially when May says that she wanted to deconstruct the original dish and Dale says "we never talked about that." This line of questioning is then immediately dropped and the judges move right over to Ali and Amar, which seemed strange to me not to further explore the tension between Dale and May. Ali and Amar talk about how things went well and they were comfortable and happy and the judges remind the bottom teams that no one was bad and everyone properly approached the challenge — the singular issue for both dishes was improperly frying their main component. The judges remark that perhaps Amar's batter should've only contained egg whites and not whole eggs, which may have added to the heavy nature of the batter. 
Back in the stew room, Ali remarks that he's disappointed and embarrassed in his silly mistake, especially after his win last week. May notes that she would feel "okay" if she went home. Of course, as I stated, last week was both Ali's and May's breakout episode, so it's a bummer to see both of them in position to go home. The judges discuss how Ali and Amar's chips were so good and crunchy; their decidedly un-crispy fish was cooked fine, but wasn't anything special, especially since it was somewhat soggy. In regards to May and Dale, the judges loved the flavors of the salad but wanted a crispier egg. 
The bottom teams shuffle back to the judges' table (with a very cinematic shot of Ali walking up the stairs). Tom notes that both teams are there for the same reason: good dishes with basic technique issues, but one dish was a little less successful than the other.
Padma then tells May and Dale to PYKAG and they both accept defeat, heading back to the stew room to say their goodbyes to their fellow cheftestants. Dale wanted to set an example of how to lead for his son and his staff, which he thinks he did and Begoña cries when saying goodbyes to May, who says "I didn't show them all of my talent, all that I have." As the sun shines through the windows and slightly blurs the lens, the vibe of the room is on full display, with many cheftestants visibly unhappy to have to bid adieu to the losing team. May says she's still proud of herself, though and that it felt good to "stand amongst great chefs of the 'Top Chef' world." She thanks us and bows as the episode ends. 
Final notes
This episode was not as "fun" as the first two and seemingly had intrinsic limits just in terms of the breadth of the London pub classics with which the cheftestants were working. At the same time, though, Tom has quickly become one of my favorites and Sara is probably my #2, so I loved watching them work together! The editing is very sharp this season. I thought the Male/Day focus would end up being a diversion from an Ali/Amar boot, but I overthought it and May and Dale did eventually go. Their egg was gorgeous with a perfect yolk, but it was clear to me (and then reiterated by the judges) that the frying was off, with an unappetizing, mealy-looking coating that blended the bread crumbs and the sausage. Also, such an oddly Padma-lite episode? I love Gail and could listen to her all day long, but I wonder if that's a conscious decision made by production this season. 
Also, such an oddly Padma-lite episode?
I'm glad that Ali was able to stay, though! I'm still rooting for Dawn in LCK, but certainly wouldn't be disappointed with a May win. 
"Top Chef: World All Stars" airs Thursdays at 9 p.m. on Bravo and streams next day on Peacock.