"Only Murders in the Building" Broadway showman turned hobbyist detective Oliver Putnam (Martin Short) is charming and ambitious to the very last. In the penultimate episode of the season when all seems lost, including his apartment, he refuses to give up on the mystery podcast he still believes will be his biggest hit since . . . ever. He may be couch surfing and demoralized by implicating the wrong killer in his main case, but he still  wants the ending "to be better than the 'Jinx' guy confessing in the pisser."
The finale revealing who killed Tim Kono (Julian Cihi) didn't quite top that shocker, and that's fine. The truth is still a satisfying bombshell, and heartbreaking to boot. After Salon spoke to "Only Murders in the Building" showrunner John Hoffman, though, it's apparent that Oliver's could have been speaking his creator's ambitions out loud.
Hoffman, along with the writing team and the mystery-comedy's co-creator Steve Martin, pored over every detail of that intoxicating tête-à-tête Martin's glum Charles-Haden Savage shared with the manslayer he, Oliver and their young partner Mabel Mora (Selena Gomez) had been hunting, to ensure the perpetrator would not be very easy to guess. 
Even if you did, the show is so marvelously constructed from end to end that solving the case is almost secondary to the thrill of unraveling the individual enigmas of each of our main players. 
Hoffman recalled in a recent phone conversation with Salon that when they pitched the series to Hulu, which happened sometime around the turn of the New Year in 2020, the opening line was, "This is a show about connection in the modern age."
In that regard "Only Murders In the Building" fulfilled its mission by reeling us into a ride-along with the trio's Hardy Boy-flavored exploits,  augmented by cleverly deployed celebrity cameos and an entertaining red herring in the form of a feline with great gams.
As their Manhattan apartment's residential sleuths, Charles, Oliver and Mabel were separately distrusted or barely tolerated before they teamed up for the love of mysteries, and a shared affection for a podcast called  "All Is Not OK in Oklahoma." But once they figured out how good they are together, and for each other, how could their passion for solving homicides be denied?
That's impossible. But it was nearly derailed.
We had a good time watching Oliver, Mabel and Charles wildly assemble clues, but experiencing the ways they found solace in each other is the irresistible part of their story.
Together they discover reasons to open themselves to a world from which they'd retreated, especially Charles, the former star of a detective show called "Brazzos." As the ten-episode season progresses, Martin poignantly blossomed his bachelor from a misanthrope into a romantic, finding new love with his neighbor Jan (Amy Ryan), a bassoonist with the symphony. Mabel received absolution and resumed a relationship with her other childhood friend from the Arconia Oscar (Aaron Dominguez), who went to prison for a crime he didn't commit, while Oliver repaired his relationship with his estranged son.
They all made diehard Arconiacs out of true-crime fans by satirizing the genre as it affectionately indulges in all of its tropes. That's less an effect of the popularity of podcasts like "Dirty John" and "Serial" than the magic born from the magnetic trinity of Martin, Short and Gomez.
---
Want a daily wrap-up of all the news and commentary Salon has to offer? Subscribe to our morning newsletter, Crash Course.
---
Although Mabel, Oliver and Charles stumbled at first by pinning Tim Kono's murder on their podcast's sponsor, New York deli king Teddy Dimas (Nathan Lane), they did figure out that he was covering up the murder of Mabel, Oscar and Tim's childhood friend Zoe, partnering with his son Theo (James Caverly) in a lucrative grave robbing racket on top of that.
Every good mystery resolves through a series of misadventures, and "Only Murders" was like a sturdy dipping pretzel that way – twists were baked within twists.
Before launching into our post-finale interview with Hoffman about the process of how he and Martin walked viewers up to unmasking their killer, make sure you've watched the finale. (Yes, this is a last chance SPOILER WARNING.)
Provided you've already seen it, and collected yourself accordingly, Hoffman hopes you'll appreciate the detailed, orchestral machinations that went into constructing this mystery, along with interrogating our relationship with true crime entertainment, be it via podcasts or the likes of "Dateline."
"A lot of the connection between our trio is about their love of this podcast and the true crime stories that they're invested in," Hoffman explains. "And we play very sort of meta by sort of asking questions about you know, what does this mean for our trio and for our world?"
The short answer to this question is there's another murder to be solved. Shortly after our three heroes lock up their killer, the Arconia is set back on its heels by the presumably accidental stabbing of Bunny (Jane Houdyshell), the petty head of the tenants board.  
Cause of death: a knitting needle to the sterum, right down to the bone. The prime suspect is none other than Mabel, but the cops also place cuffs on Charles and Oliver just in case.
As we know, and they know, nothing is ever as it first seems. But as Hoffman shared over our hourlong conversation, the latest butchering is merely meant to whet our appetite for the second season, which Hulu picked up shortly after the series premiered. He couldn't say much about it, and we wouldn't want him to. But he happily discussed the elaborate care with which he and everyone else who makes the show constructed the first season's mystery, the romance of Oliver, Mabel and Charles' friendship and how they landed on the very classic choice of the real killer's identity.
This interview has been edited for length and clarity.
Throughout the season people were formulating their theories as to the killer's identity, and Jan kept on coming up on a few discussion board threads. But the fact that she actually turned out to be the murderer also broke my heart a little.
In a way I'm happy to hear that broke your heart, because I didn't want it to be a feeling of like, "Get her!" I didn't want that. Hopefully the show feels like it comes from sort of a humanist point of view.
Let's talk about that reveal. How did you decide that Jan would be the culprit?
This is a show that started out and is very much all about three lonely people living in New York City and looking to break out of their boxes in some way – to get pulled out of their darkness, their isolated little worlds, and connect.
That scene is what really angled us back around to Tim Kono's life. Once we started fleshing out his history, we started really looking at what those 10 years were in between, when he didn't divulge the truth of what he saw up on that rooftop. What his life looked like, how his days unfolded and, again, a very lonely existence which he talks about in Episode 10. It brings us back around to the theme which is, "What connects everybody?" They're all lonely souls, as he says, and when you're lonely, you make decisions that sometimes are not so good.
He, in that moment, drew a woman who was also very lonely and very adamant that she needed to feel as though she was the center for someone. And that drove her in many ways. That is where we landed as far as a motive as well, the feeling of just utter frustration and madness, truthfully, as you start to see in Episode 10.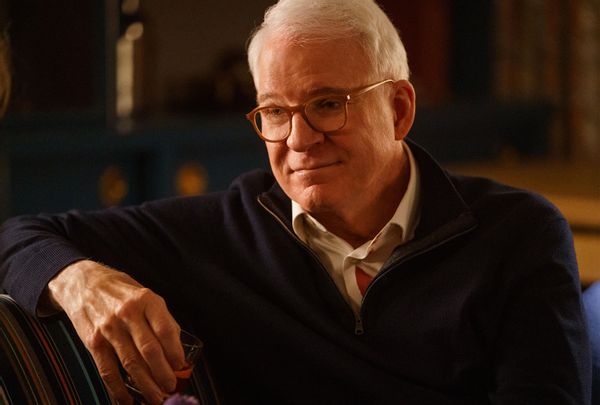 Only Murders In The Building (Barbara Nitke/Hulu)
That back and forth between Charles and Jan is so wonderful because I know a lot of people are watching this for the Easter eggs, the indicators of who might be the killer –  watching this like true crime fans would, which is what you and Steve had intended. But I would love to hear about how the choreography of that scene unfolded.
With Episode 10 there was something delightful to me about sort of showing a new side of Charles and Jan's relationship in the moment of her confession. They sort of have a whole new level of thrill between them in this perverse way, I guess. They're both loving being able to talk openly and freely about this now, and they're cracking the case together: "When were you first on to me?" And he's playing the game with her of cat and mouse, taking sips of his drink. All of that felt exciting to write – and heartbreaking underneath it, yes – but exciting, because ultimately the relationship that we wanted to come back around to, the one that mattered the most to Charles, was lying there within Mabel and Oliver.
I also felt Charles: I like watching the character both get caught up and lost in the thrill of romance, as he was doing in Episode 8, and even 9. But I also very much wanted to see him lean into how clever and smart he is, and be his own true crime aficionado. So once he was in the game of it, and once he realized he'd been played, he just sort of kicked into that. Now the emotional side of it will come later and is running underneath it, but that was the dance of that scene.
But I'm not saying Jan is done yet. That's what I would say about that.
When I have spoken to people of different ages who watch the show they tend to have two different in responses. Older viewers say, "Oh, I wanted to watch it for Steve Martin. And then I found out that I really like Selena Gomez!" But I recently spoke to someone their 20s who said, "Yeah, I watch with my girlfriend because she likes Selena Gomez, but man, that Steve Martin guy is great."
That makes me so happy, I really have to say! We're all recognizing this part of the show, too, as we learn how people receive it. What you just said is delightful – and that part, I will say, was less intentional.
That's interesting.
Obviously, we are hitting intergenerational aspects, and we leaned into them in the writers room for sure. But I was more curious to see, will people accept this trio? Right from the moment that they all came together. I said, "Oh, I love the way this works." But we really didn't know that Selena and Steve and Marty would jibe the way they do, that there would be this sort of lovely bit of chemistry. That's a rare thing. But I think sometimes the show lets the audience tell you what is connecting to more than you might have intended.
. . . The other part that fascinated me a little bit was, before coming onto the show, I was on "Grace & Frankie" for several seasons.  Our audience for that show was a huge number of young women. And that surprised me. I was delighted to be around those legends, but it was like, are we only for the older set? And that clearly was not the case.
God knows when this opportunity came to me with Steve and Marty, that that immediately led me to thinking that I would love to do that for them in this moment, to have a whole new younger generation connect to them. How best to do that? You find the most modern young woman who connects with millions on a daily basis to be the facilitator of that and then lo and behold, she's this delightful comedian with this very wry energy that's just laser focused in a slam at these two delightfully silly men.
I'm going to rewatch with my husband because he's only seen the first episode with me. What would you say are the elements you would love people to drill into a little bit more on a second viewing?
I want you to know that there will be mistakes, there will be things that like might not make some sense – but very few, I hope. I feel like I probably know all of them. But there aren't that many things where you say, "Wait a minute, that doesn't make sense." And it doesn't make sense, you're probably right . . . But I, with our writers, brilliant staff, everybody involved, our focus was exactly for the rewatcher.
And so I helped edit, helped to write how to execute everything we were doing on stage in a way for viewing a second time through.
Now, what to look for? Certainly I think the care all of the characters take to slowly unpeel their personal onions in front of each other, that's underneath everything. I think back on the pilot and I think of the moment of Mabel being confronted by seeing her friend on the floor and not talking about that. Watch the limited amount she speaks after that moment.
I think you go back, obviously, with Jan to the early days. You can watch the development of that relationship and find clues that are laying in plain sight. Those are the big things, I think, that immediately come to mind.
Here's something I've got to ask: Did the weirdness of how the bassoon cleaner looks play into the decision to have Jan play the bassoon, or was she a bassoonist first?
Great question. Actually, the bassoonist came first, and that came from one of our writers, Madeleine George. She had a story about someone she knew who played the bassoon, and then we were able to build sort of a character around some of that.
I very much wanted the classical music world represented in this building. And I just wanted something playing through that courtyard. I think people in orchestras are fascinating because they have this relationship to their instruments. But beyond that, the big selling point was, what can we lay in that drops a clue early on in the season without looking like a clue? Only upon going back can you go, "Oh my god, I remember seeing that thing." And it looked weird to be in a sex toy box.
I thought that would be a fun thing to imagine. Now we had, of course, in our room lots of discussions about the sexual proclivities of Jan. The fun of it was once we started looking at bassoon accoutrements. So when we found this cleaner, and there were a couple of different versions of bassoon cleaners – honestly, that's when we thought, "This one looks like it could be something you can bring into bed and just play with." So it was a fortuitous thing of like of like, "Let's make that our big clue."
I screamed when I saw it and said, "Okay, that, we now know, is the last line of Episode 9." And that line was, "Oliver, why is there a bassoon cleaner in Tim Kono's sex toy box?"
Did you hear from any bassoonists?
Well, that was my worry too, was that some bassoonist out there was going to go, "That's a bassoon cleaner," right off the bat in Episode 2. That was my nightmare. But the good part of it was the variation of bassoon cleaners. Most of them look more fabricky, or almost like a wood or metal dowel that has fabric on the end of it . So then you might have a bassoonist here and there saying, "I've never seen an instrument cleaner that looks like that." But they do sell them!
Before I let you go, I just watch to get a couple of glimpses into the second season. When did you know how you were going to lead into it? And do you have that mystery figured out?
We do have the ultimate mystery figured out for Season 2, which is very exciting. In a way we couldn't start without it. In between Season 1 and Season 2 I worked that out, and I know who did what in Season 2. It's so crazy writing on this show in so many ways, because . . . I never wanted, truthfully, to be a mystery writer. But here I am.
Why didn't you want to want to write mysteries?
Because I just admire it so much and think, how did they do that? Now I kind of know. But really, it takes such effort to have the whole thing planned all the way through to the end and then twist your way there. We don't start actually writing the episodes until very late in our rooms for that reason. Everything has to line up accordingly, just so. But actually, we set up Season 2 in the initial pitch of Hulu.  
So way back when we knew that, which was helpful. Who was the body and who was the killer was still yet to be fully ironed out. But I think of the second season as an entry into the sort of thing we start dabbling in and investigating in true crime and podcasting. By the end of Season 1 and clearly at the beginning of Season 2, they really have stepped in it. And now it's about navigating how to get out of something when you might be the focus of a case.
About Tina Fey as Cinda Canning: Sometimes when big celebrities make cameos within a series or in recurring roles, there's the notion that a light touch is better – that you don't want this character to draw attention away from the main cast. We got a clue early on in the season that she's doing her own version of  "Only Murders," hinting that it had become a larger story. So is she going to be a more regular presence in the second season?
I don't want to give too much away there. But you know, we have this incredible supporting cast of recurring players in our show, all thanks to our cast being tremendous magnet. 
. . . Because Cinda is the queen of all podcasts, there's a natural sort of spectral quality that once she has her sights on you, you'll feel her a lot more even if she's not as present. But she'll be in your ear and she'll be popping up at times when it's probably the worst time ever. And you'll feel her all throughout Season 2. So yes, Tina will be coming back.
Since we're talking about this, it was established at one point that Sting was leaving for an extended trip. Is he staying away from the Arconia or is his place going to be subletted by, I don't know, somebody like Peter Gabriel?
Here's what I'll say to that without spoiling: That is a very apt and pertinent question.
All ten episodes of "Only Murders in the Building" are currently streaming on Hulu.