It's all about telling a good story.
On Hulu's "Only Murders in the Building," that's the philosophy held by a trio of NYC apartment tenants who team up to solve the murder of a neighbor while simultaneously recording a podcast of their investigation. And telling a good story extends to the opening credits sequence, which captures the series' mix of comedy, mystery and the characters' sense of poignant longing.
The animated main titles opens with a woman walking her sweater-clad dog in front of the Arconia before offering glimpses of the tenants through their apartment windows. The camera zooms upward on its voyeuristic journey pausing at the rooftop during sunset before dipping back down to peek in on neighbors. Nighttime brings the three friends standing outside the front of the building, which has now become a crime scene. Bookending the entire sequence is the lady walking her dog, this time in the opposite direction. 
The series, created by Steve Martin and John Hoffman, turned to Elastic, known for designing a number of opening credits, including ones for "Game of Thrones," "Watchmen" and "Captain Marvel," among others.
"The brief was this idea of a love letter to New York in a way and true crime and true crime podcasts," Lisa Bolan, a creative director at Elastic, told Salon. "John really wanted to capture this romantic illustrative approach to New York, building on the magic of Hirschfeld and The New Yorker – illustrators who have abstracted New York in a way that's beautiful and also speaks to these little glimpses of magic in the urban landscape.
"When you're walking around New York City, whether it's the steam coming out of a manhole cover or how when the sun sets, you'll see a glimpse in between two buildings or a water tower shadow on the top of a building." 
Take a look at the "Only Murders in the Building" main titles below:
Bolan immediately pitched to have award-winning illustrator and comic artist Laura Pérez to tackle the look of the project.
"[She's] a friend of mine who came to mind because her illustration style just seemed like a beautiful modern aesthetic that would work and would feel unique," she said. "This would be our illustration style."
It's easy to see why. Pérez's use of fluid lines, muted color palette and characters with haunted eyes capture the show's eerie beauty and themes of loneliness, all set in a bustling apartment building.  
The fictional Arconia is shot at The Belnord in Manhattan, which provided a template for the main titles, along with other iconic Upper West Side building such as the Apthorp. Viewers can see such details included, such as the ornate iron gates and even the bas-relief sculpture of two cherubs over the gate's archway.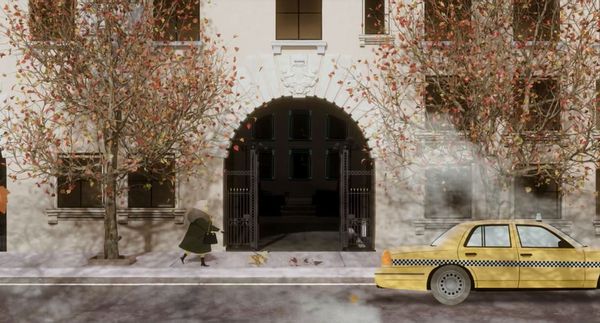 "Only Murders in the Building" main titles - Woman walking her dog (Hulu)
"I wanted to put her illustrations into the geometry of the windows and make them these apertures you can see through to see the isolation of the various characters and how the crime brings them together," said Bolan.
Through these windows, each of the main characters are introduced: lonely actor Charles-Haden Savage (Steve Martin) making eggs for someone who's no longer in his life, gregarious theater director Oliver Putnam (Martin Short) on the phone while drinking wine and solitary artist Mabel Mora (Selena Gomez) sketching. 
While the opening credits emphasize a primary color palette, the color red is featured in particular.
"What came from the the creative direction was this sort of pink and factory gray kind of beginning and then as the sun sets have the color be golds and rich oranges. And as the sun sets, in turns red to suggest this idea of danger," said Bolan. "And then as the fire alarm is tripped, we have those little lights strobing and the red flooding those those hallways and the stairwell."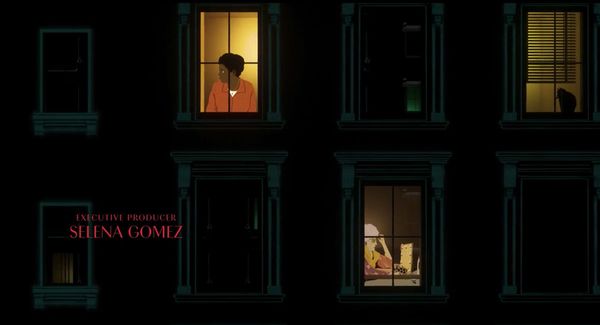 "Only Murders in the Building" main titles - Neighbors in the windows (Hulu)
And even though we can see some people evacuating, other residents seen through the window aren't budging. 
"John had this wonderful story of a lady he would see tweezing her eyebrows in front of the window and makeup mirror for what seemed to be hours. So we featured tweezing lady," said Bolan. "There's also a lady who's opening the curtains like, 'What's going on?' Most of the people have left because the fire alarm is going off, but there are a few stubborn people who are like, 'I'm not leaving. This isn't a real fire alarm. These things go off every week. I'm not leaving.'"
As we see from the series, Charles, Oliver and Mabel barely acknowledged each other previously but became friends when they're forced to evacuate to the diner across the street and realize they share a love for the same true crime podcast. When they discover that an actual murder has taken place at the Arconia, their friendship is sealed as they investigate possible suspects.
It's why the second shot of the three of them together is so important. 
"We thought about maybe putting them on the roof, and then eventually it made sense that they've just come back from the diner and they realize what's happened," said Bolan. "It makes perfect sense for that to be the moment where they all meet in the courtyard."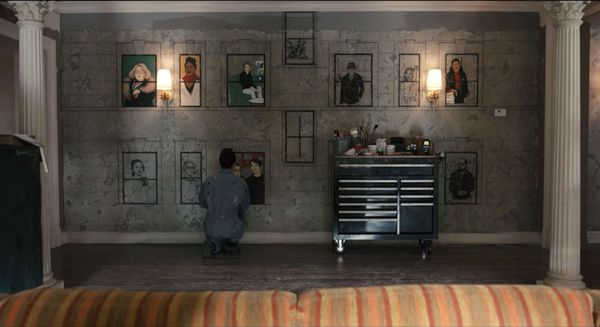 "Only Murders in the Building" Mabel's mural (Hulu)
Pérez's images became so integral to the identity of the show that they're actually part of one character's story.
"The coolest thing that happened for me was I suggested Laura and then she became the illustrator for the show . . . so she's Mabel," said Bolan. "She made the drawings [of Tim Kono] on the iPad. She becomes Mabel as the artist. Just everything she makes is magical. There's movement to things, there's leaves and hair moving, and it just I just felt like she's the perfect fit for this because it's a little dark, but still her, like Edward Gorey."
The hidden Easter eggs
Shortly after the series premiered, Hoffman told E! Online, "Within our gorgeous open opening credits, which we worked very hard on, there is a slight difference. An Easter egg is dropped, basically. A slight thing to pick up and find in each episode's opening credits that points to a little mystery within that episode, or within the mystery at large."
If Reddit threads weren't clogged enough with theories and fans pointing out clues, this just added to the meticulous viewing and conversation. Here's a breakdown of the location of each Easter egg, episode by episode.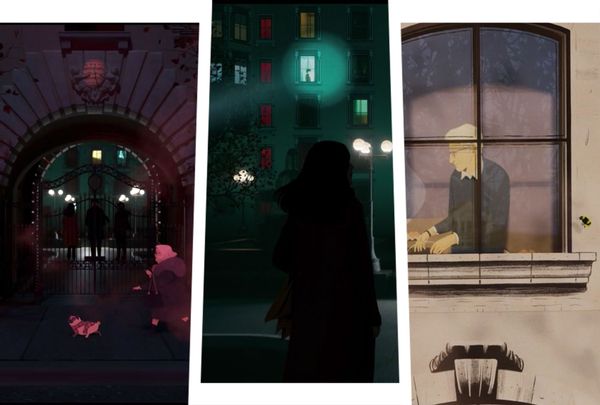 "Only Murders in the Building" main titles Easter eggs: Episode 1 - Easter egg, Episode 2 - Hardy Boys flashlight beams, Episode 3 - Bee outside Charles' window (Image split by Salon/Hulu)
Episode 1, "True Crime"
Easter egg: Literally, an image of an Easter egg can be seen in the last scene of the opening credits after the camera pulls out of the front gate of the Arconian. It's perched between the two bas-relief cherubs over the archway.
The decision about what the Easter egg was and where it would show up was a topic of debate.
"We we had a list that was really long for what they could potentially be. It was pretty long, but we probably had like three or four ideas per episode," said Bolan. "And some of them we didn't end up doing. You don't want to disrupt too much, you want it to be hidden."
Hoffman noted that at one point, an image of a whale was considered as an Easter egg as a reference to Mabel's whale tattoo that is seen at the end of the pilot as she says in voiceover, "The secrets are the fun part. Who's telling the truth? Who's lying? What are they hiding?"
Episode 2, "Who Is Tim Kono?"
Easter egg: As the show's title "Only Murders in the Building" flashes onscreen, two bright beams of light move around and pause on the building. 
"They're the flashlight beams that are on the building," Hoffman told Salon. "It was never intended to sort of focus on any window. The flashlight beam was mainly there to represent young Mabel and young Tim, starting their sort of Hardy Boy-ing around the Arconia the way they are in flashback in Episode 2."
Episode 3, "How Well Do You Know Your Neighbors"
Easter egg: A bee can be seen flying outside of Charles' window. This is a reference to Sting, who plays a version of himself in the series and whom Oliver talks to in the elevator. Sting becomes a suspect by the next episode.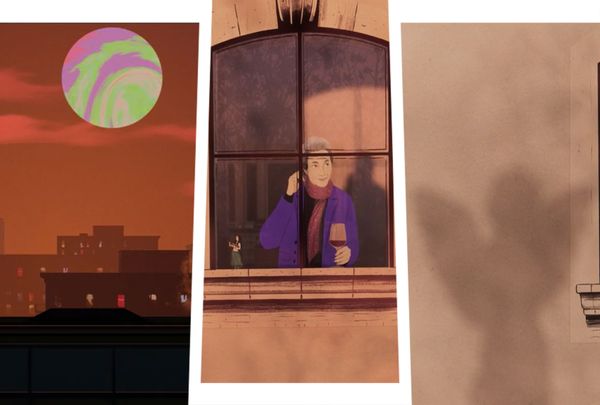 "Only Murders in the Building" main titles Easter eggs: Episode 4 - Tie-dye moon, Episode 5 - Hula figurine in Oliver's window, Episode 6 - Angel shadow (Image split by Salon/Hulu)
Episode 4, "The Sting"
Easter egg: As the sun sets over the building, instead of just turning red, it becomes a multi-colored tie-dyed moon. This is a reference to the tie-dye hoodie suspect that Charles first saw going up the stairs during the fire alarm in the pilot, and who is seen following Mabel at the end of this episode.
Also, the moon turns tie-dye when Aaron Dominguez's name pops up in the credits. He just happens to be the actor who plays Oscar, the person revealed in the next episode to be wearing the hoodie in question.
According to Hoffman, this Easter egg almost didn't happen.
"I know there was discussion about the tie-dyed moon," he said. "We went back and forth on what was the right way to go that way. Actually, the tie-dyed moon felt like the more obvious one than some of the others. So I think I was a little hesitant about that one. But I thought, 'Well, in the balance of all of it, let's do something a little more obvious.'"
Episode 5, "Twist"
Easter egg: In Oliver's window, there's a Hula dancer figuring swaying. This is a direct reference to the figure on the dashboard of Oliver's car, which he and Charles drive to follow Mabel, and also a slight reference to the episode's title.
Episode 6, "To Protect and Serve"
Easter egg: The shadow of an angel appears on the side of the building as the camera pans upward. This is a reference to the company that Teddy wrote a check from, Angel Inc., which is named for one of his yaya.
The shadow was made possible by the layered effects used in the main titles.
"We wanted to have this combination of illustration and the realism of light, so that was something that CG could bring to this," said Bolan. "I desperately wanted to have the shadows of the leaves on the front of the building. I was obsessed with that, the light coming into apartments casting shadows with the people in the apartments on their walls, and that warm glow. And just to have [the Easter egg] be a detail like the bee, and the shadow was really great because it's subtle."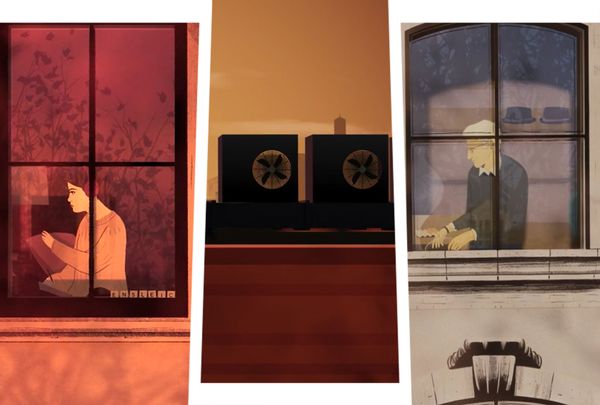 "Only Murders in the Building" main titles Easter eggs: Episode 7 - Scrabble tiles, Episode 8 - Box fans on the rooftop, Episode 9 - Two hats in Charles' window (Image split by Salon/Hulu)
Episode 7, "The Boy From 6B"
Easter egg: Scrabble tiles reading "ENSLEIC" are seen in Mabel's window. 
"There was discussion about was how best to represent Episode 7, the episode with no [verbal] dialogue," said Hoffman "I really was happy when we landed on the Scrabble tiles that were an anagram for 'SILENCE.'"
Episode 8, "Fan Fiction"
Easter egg: As the camera pans up, three rotating fans can be seen perched on the rooftop. This is a reference to the in-show podcast fans who've camped out in front of the Arconia and become part of the crime-solving team.
"One of my favorites is the fans on top of the building. I thought many people will miss that," said Hoffman. "But then I thought people will enjoy it because it's maybe one of the more clever ones."
Episode 9, "Double Time"
Easter egg: Two pork pie hats can be seen in the background through Charles' window. This is a reference to Charles' stunt double Saz who shows up out of the blue . . . and is played by Jane Lynch!
Spoiler alert! Here's your last chance to stop reading if you haven't watched the finale yet. If you're all caught up, then please proceed, and also check out Salon's postmortem interview with John Hoffman.
Episode 10, "Open and Shut"
Easter egg: There's a key difference with the neighbor who peers out her window to find out what's happening. Her curtain this time around features a rabbit print. This is a reference to the second person who will be murdered in the building, which was teased in the pilot. Although they are wearing a rainbow hoodie, it's not Oscar but rather tenants board leader Bunny (Jayne Houdyshell), leaving the finale on a cliffhanger. If you want to be cheeky about it, you could also see this as a sly reference to Tim Kono's neighbor Ndidi Idoko (Zainab Jah), who claimed to hear Tim and a woman have very loud sex frequently, aka going at it like rabbits, if you will.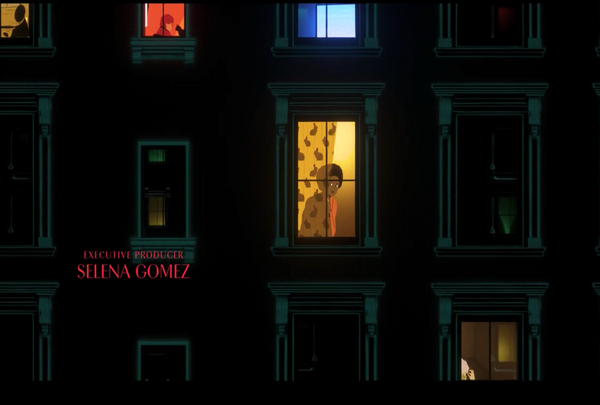 "Only Murders in the Building" main titles Easter egg – rabbit-print curtain (Hulu)
That haunting tune
While much attention is rightfully paid to the main titles' visuals, its audio component is just as important. The haunting yet playful theme song by Siddhartha Khosla completes the experience and provides a recurring motif heard throughout the series. It also slyly includes a bassoon, the instrument that Jan (Amy Ryan) plays that is also the subject of many puns.
Even though the music is now part of the overall experience, it hadn't been nailed down yet when Elastic was trying to create the opening credits. 
"It came in later. We were working with I think 'I'll Take Manhattan' as a as a placeholder," said Bolan. "We knew that there would be a composer, and it was probably halfway when we were doing our CG moves that we got a rough track, a click track of what the composer eventually made."
"It was shocking to me because I thought, 'Oh my gosh, it's gonna be torture, landing on the music theme for the show,'" recalled Hoffman. "Because it's gonna be really hard to find something with a mix of feeling about the tone of the show – something buoyant enough, something joyful enough and yet mysterious enough. And something light that makes you giggle in a way or tickles you in some way."
---
Want a daily wrap-up of all the news and commentary Salon has to offer? Subscribe to our morning newsletter, Crash Course.
---
Fortunately Khosla is a veteran musician with a mix of backgrounds. He is a founding member of the indie band Goldspot that's enjoyed popularity here and overseas. Since then, Khosla has become an Emmy-nominated composer for NBC's hit drama "This Is Us," Hulu's "Love Victor" and numerous other other shows.
"Sidd is a deep-thinking guy, and I love to get into the deep-thinking conversations about every little thing we're doing on the show. And so we were very much a mind-meld on this one," said Hoffman. "We talked a lot about the various music of New York and trying to create something that has touches, little hits of all varying parts of New York.
"So yes, there are the voices, the choral thing. And he's got buckets in there, you know, like you hear street musician playing on the corner or in the subway," he added. "Literally, like Home Depot buckets I think is what he went and got and had someone play. That's the percussive thing you're hearing. So that's part of this against this more orchestral sort of vibe he's got going plus there's a bassoon in there. I believe he leaned into that for obvious reasons."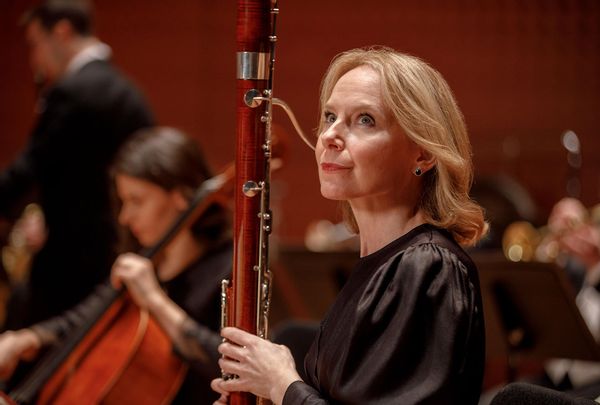 Amy Ryan as Jan in "Only Murders in the Building" (Craig Blankenhorn/Hulu)
That airy melody was apparently present from the start, even though Khosla tried to improve upon it.
"He had written this piece and just played it for me as an example of kind of a direction to go," said Hoffman. "I heard it and said, 'Sidd, that's the theme.' He's an emulator: 'Let me riff off of it.' Then he riffed many times over on that. And I kept saying, 'Stop that. Come back, come back to that original piece, because that's it, you have it. That's it. That is the show.'
"It was unbelievable because it was like buying the first house you see. But I knew it when I heard it. It was carrying everything we wanted to carry. I was delighted by it. He rocked it in every variation that we needed it."
The first season of "Only Murders in the Building" is now available to stream . . . and rewatch!
Additional reporting by Melanie McFarland
[CORRECTION: A previous version of this story stated that the theme song originated from a piece written years ago for another project when it was written specifically for this series.]