There's not much left to say about the margarita, is there? One of the great classic cocktails traditionally comprising tequila, triple sec orange liqueur and lime juice, it probably originated as a tequila-based take on the daisy, a drink category dating back to Victorian times that's made from citrus juice sweetened with syrup or liqueur and fortified with a base spirit, according to Difford's Guide. ("Margarita" is Spanish for daisy, after all.)
My personal margarita history reads like many others, I'm sure: some prescriptively good ones and many more mediocre, concocted from bottled mixes and dispensed by the pitcher. Among the handful of truly standout margs I've had, one peculiar version looms large. This margarita, which originated at The Matchbox bar in Chicago, drinks rich and frothy like a sour and is rimmed not with salt but rather a thick coating of powdered sugar. 
Yes, you read that right. 
RELATED: How to make a perfectly balanced margarita every time
A choice I'd normally consider a red flag in a cocktail, this marg's confectioner's sugar rim coats your lips, softening the bracing tequila and unapologetic dose of fresh citrus — whose aromas are supercharged with a fat lemon peel garnish. With each sip, your fingers get a little stickier. 
"All credit for the powdered-sugar rim goes to the previous owners," said co-owner Gregg Weinstein, who bought The Matchbox about a year and a half ago with his partner Kevin Killerman from David and Jackie Gervercer. "We'll take credit for keeping it going."
The Gervercers purchased the bar in 1995 from original owner Israel Segal, who ran it for more than 60 years. Jackie Gervercer tended bar and oversaw the cocktail menu, meaning she likely contrived the sugared rim and the addition of egg whites, which writer Chuck Sudo unriddled back in 2012 for the Chicagoist. Yet I wouldn't dream of recreating this cocktail at home, because a big part of what makes drinking it special is the bar itself.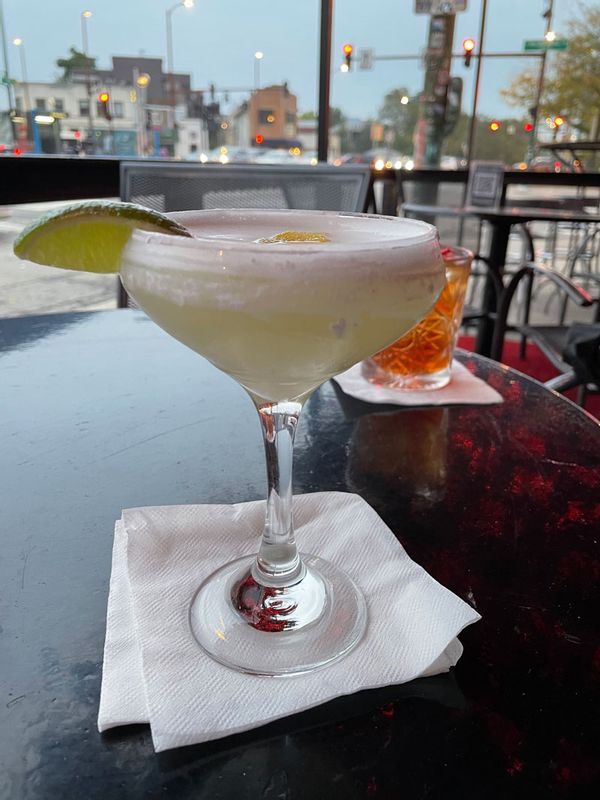 A close-up of The Matchbox's sugar-rimmed margarita. (Photo courtesy of Maggie Hennessy)
This tiny, wedge-shaped joint, which anchors the northwest corner of Ogden, Milwaukee and Chicago Aves. in the River West neighborhood, aptly self-describes on its facade as Chicago's most intimate bar. Enclosed in brick walls on one side and huge windows on the other beneath a tin-print ceiling, the space is illuminated by oversized chandeliers, bands of twinkle lights and a red-lit back bar. Against a cluttered backdrop of scrawled notes and photos, bartenders shake and stir all manner of superb classic cocktails, from gimlets and daiquiris to cosmos and Manhattans — many of which arrive with an equally delightful throwback: the sidecar (as in, the shaker remains in a little glass jug). 
Before the pandemic, I'd often pop by for an after-work margarita — arriving as close to opening time as possible to snag one of only 15 timeworn barstools lining the lipped wood bar. If they were all occupied, I'd happily prop my elbow on the ledge along the windows, tucking in my sipping arm whenever someone squeezed by. Trips to the restroom — located at the back and narrowest part of the bar — were, naturally, delayed as long as physically possible. I'd drain my cocktail for courage, then inch back through the wall of standers on the right and seated drinkers on the left — the path narrowing a little with each step. Winter always presented the added challenge of puffy coats sprouting into the precarious walkway. But like all good regulars, I'd claim this small oddity proudly; this is, after all, my bar. 
A few weeks ago, my husband and I stopped by for an after-work marg on The Matchbox's sprawling sidewalk patio set beneath an extended canopy — two necessary expansions when the highly contagious COVID-19 rendered the bar's interior temporarily obsolete.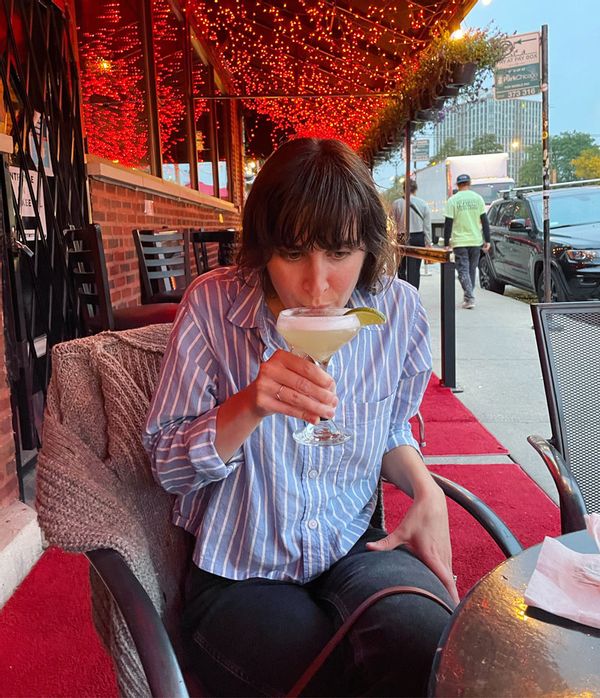 The author sips on a sugar-rimmed margarita at The Matchbox. (Photo courtesy of Maggie Hennessy)
"The pandemic made us three times as big," Weinstein told me. 
He and I had been chatting for maybe 10 minutes when I demanded to know why my very large coupe filled to the brim was missing its trademark sidecar. 
"Believe me, you're not the first to ask," he sighed, reassuring me that I was still getting the same amount. "We shifted it to a bigger coupe. A few drinks still come with sidecars, but there's just no room back there for all that glassware."
---
Want more great food writing and recipes? Subscribe to "The Bite," Salon Food's newsletter.
---
These count among the more innocuous changes required to keep this old bar going and up to code. Weinstein and Killerman, who own several bars throughout the city, including Star Bar in Ukrainian Village, Rex Tavern in Jefferson Park and Hubbard Inn in River North, addressed several mechanical issues, including a leaky roof. They replaced the windows, added new barstools and moved the furnace to increase and space out interior seating. They also installed a dishwasher and draft line. 
The Matchbox's interior is open again and still recognizable, though all but one of the familiar faces mixing drinks have left since the pandemic. You can't stand two or three people deep anymore either, but Weinstein and Killerman have plans to expand indoor seating to the old train car next door, which formerly housed the dining room for the Silver Palm restaurant — which they also purchased. 
"I didn't want to see this place turn into a bank or condos," said Weinstein, a Chicago native. "We want to keep as much as we can the same; we're part of the family now."
RELATED: Chillable red wines may be synonymous with poolsides, but they're equally great in long sleeves
Deep down, I know this is the only way to keep some semblance of these beloved old joints alive. Bar owner Ed Warm faced a similar challenge when he bought Carol's, Chicago's last honky-tonk bar in Uptown, though I'd argue that he kept the bar's soul intact. Similarly, when Andrew Pillman bought the German-themed Huettenbar in Lincoln Square, he gutted the charming but severely lapsed interior. For now, it resembles a nondescript sports bar, though Pillman is coordinating with the neighborhood's German American cultural center to decorate the bar, as Block Club Chicago reported. 
Indeed, you might call change the sole constant of big cities — an inevitability with little sympathy for those of us bent on lamenting the bygone, good old days. I, for one, will settle for pausing time till I reach the bottom of my margarita coupe. 
One more round, you say? I'm in . . .
More by this author: