Networks don't pour much sweat and stress into Super Bowl counterprogramming anymore – not since Animal Planet came up with the solution to beat them all in 2005: "Puppy Bowl." Legend has it that a network executive in search of a Yule Log equivalent proposed unleashing a lineup of fuzzy poopers into a fun-sized Plexiglas "stadium" with a bunch of toys.
It is the year's most adorable way to do nothing on a midwinter Sunday.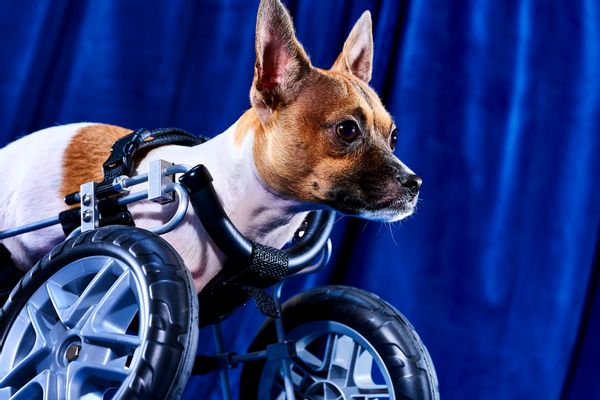 Puppy Bowl (Elias Weiss Friedman / Animal Planet)
Other Big Game alternatives have come and gone in the years since "Puppy Bowl" first debuted, including Hallmark Channel's comparably precious "Kitten Bowl" in 2014 and NatGeo's "Fish Bowl" which . . . existed.
But all came to understand that that old showbiz rule about never following puppies or children applies to Animal Planet's annual cuteness showcase. "Fish Bowl" went belly up after four low-rated swims, and even Hallmark canceled the "Kitten Bowl" last year.
An assortment of fluffy stumblebums tussle over squeaky objects until they drag whatever they put in their mouth into an end zone. Which one? Who cares.
Thus "Puppy Bowl XIX" would've run unchallenged in 2023, if not for Great American Family stepping up with its "Great American Rescue Bowl," bringing puppies to the field along with kittens, adult cats, and mature dogs. The "Puppy Bowl" always features kittens in its halftime show, but if you want to watch an agile mouser named Primrose pretend to catch a Hail Mary Pass, you'll need to roll into the "Rescue Bowl."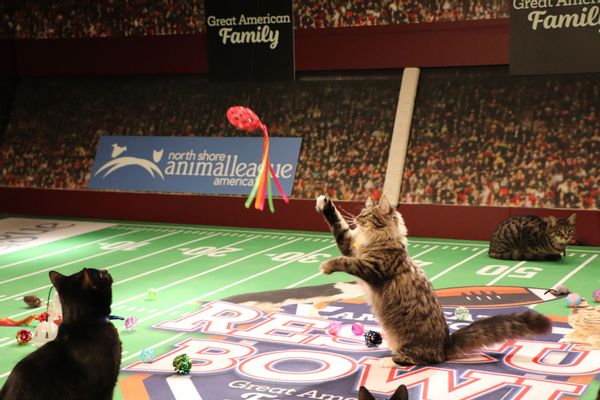 Great American Rescue Bowl (GAC Media / © Great American Family)
Between the two you can completely ignore the Super Bowl LVII matchup between the Philadelphia Eagles and the Kansas City Chiefs and maintain the spirit of the Big Game day.
Here's how this pair of pet alternatives to the Big Game compare in a wet nose-to-wet nose matchup.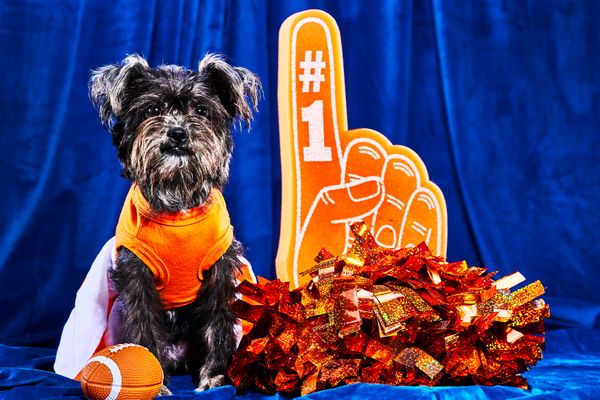 Puppy Bowl (Elias Weiss Friedman / Animal Planet)
"Puppy Bowl XIX"
In this 19th edition of the bowl that is anyone's game, and Puppy Bowl Referee Dan Schachner's 12th round, Animal Planet wrangled 122 puppies including dogs with special needs, by working with 67 shelters and rescue groups across 34 states, including a Native American animal organization, the NAGI group.
By now most people know how it works, but for those who don't – and we envy you, since it's never as good as the first time! – the canine version of the Big Game pits Team Ruff against Team Fluff, although team affiliation only matters to humans.
On the field, an assortment of fluffy stumblebums tussle over squeaky objects until they drag whatever they put in their mouth into an end zone. Which one? Who cares.
Sometimes a pup will score two touchdowns in a single magnificent run. Other pups add value by taking naps in the middle of the field. Halftime is when the kittens sashay on in, mainly because they don't fetch, carry objects or follow directions. But the dogs are the stars, and this year the pack includes Kokobean, who comes from the Caribbean island of Dominica, and the artfully named Jimmy Kibble, a Pomeranian-husky mix.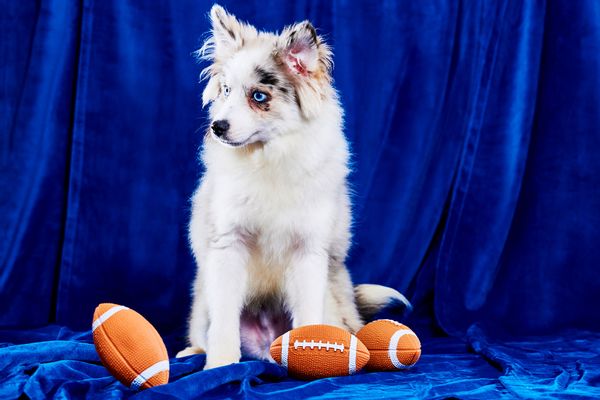 Puppy Bowl (Elias Weiss Friedman / Animal Planet)
Should you set your heart on a "Puppy Bowl" star with whom you simply must snuggle, we have sad news for you, although it means a happy outcome for the object of your desire: every cuddler in the show has already been adopted. But there's untapped talent at your local shelter, which is the point of these annual specials. If you think these dogs are adorable on TV, wait until you run around with one in person. 
The "Puppy Bowl" pre-game show airs on Sunday, Feb. 12 at 10 a.m. PT/1 p.m., followed by "Puppy Bowl XIX" at 11 a.m. PT/ 2 p.m. ET. The game will be simulcast across Animal Planet, Discovery Channel, TBS, discovery+, and HBO Max.
---
Want a daily wrap-up of all the news and commentary Salon has to offer? Subscribe to our morning newsletter, Crash Course.
---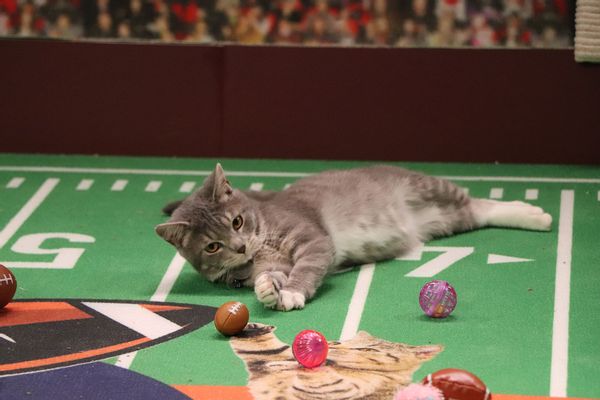 Great American Rescue Bowl (GAC Media / © Great American Family)
"Great American Rescue Bowl"
If this "new" event sounds like you've seen it before, that means you're either a cat person or a Hallmark viewer or – what are the odds? – both.
Great American Family is run by the previous regime that managed the Hallmark Channel. Under its CEO Bill Abbott, nearly all of Hallmark's holiday movies remained whiter than Tony Robbins' chompers until he left in 2021, taking Candace Cameron Bure with him, and assuming the reins of Great American Country.
Resurrecting "Kitten Bowl" as the "Great American Rescue Bowl" and returning Beth Stern as its host, is another instance of Abbott picking up a Hallmark castoff and luring the audience that channel abandoned away to his new place. It's a bit like the Tampa Bay Buccaneers plucking Tom Brady out of retirement. Well, not quite that . . . more like that neighbor who usurped your long-standing Super Bowl Party by announcing he has a brand spanking new home theater so why doesn't everyone go to their place this year? He's a pill, and your snacks are legendary, but how can you compete with dogs and cats playing together on a wall-sized screen?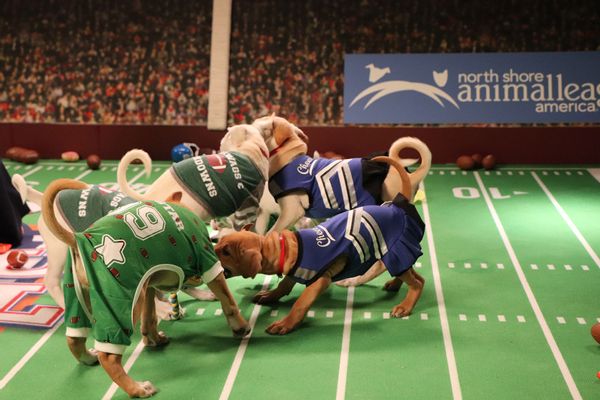 Great American Rescue Bowl (GAC Media / © Great American Family)
Anyway. Much as there is to adore about "Puppy Bowl," this special highlights senior dogs and cats along with its infant felines and canines. Baby animals promote themselves simply by showing up in their disarming natural state, whereas the public needs to be reminded that geriatric pooches and pusses are capable companions needing homes too.
Some of its four-legged athletes were rescued from the aftermath of Hurricane Ian, including pets from South Carolina, West Virginia and Antigua. Others are special needs adoptions and dogs saved from puppy mills.
We'll grant you, if you checked out Bure's first holiday masterwork on GAF, you may be hesitant to dip into "Rescue Bowl." Completely understandable! But the kittens are merely its gateway lure into the world of pet adoption. "100,000 shelter pets got adopted during the decade of 'Kitten Bowl,'" a GAF spokesperson told Salon. "'Great American Rescue Bowl' proudly continues the goal of finding a loving home for every pet."
"Great American Rescue Bowl" airs Sunday, Feb. 12 at 7 a.m. PT/ 10 a.m. ET and repeats at 1 p.m. PT/4 p.m. ET on Great American Family.
Nobody's stopping you from watching both specials, which you can certainly do since each repeats throughout the day. Regardless of which one you decide to sit and stay with you might want to keep track of the game clock at State Farm Stadium in Glendale, Ariz. Gazing at cats and dogs might be your bag, but since both of these events are pre-recorded, that limits their mystery.
Rihanna's half-time show, however, promises to be a communal revelation that should not to be missed . . . and it's likely to happen some around or after between 5 p.m. PT/ 8 p.m ET. And in case you're curious, she's a dog rescuer.
Read more
about the Super Bowl and animals