We've all found ourselves in situations we've been conditioned to desire only to discover that the wanting is much better than the reality. On "Abbott Elementary" one such scenario takes place during "Teacher Conference," where Janine Teagues (Quinta Brunson) and the rest of the Abbott crew attend a Pennsylvania educators' gathering. There's networking, seminars, and flowing booze – so much flowing booze.
That same weekend her co-worker Gregory (Tyler James Williams) is supposed to be taking his girlfriend Amber on a weekend getaway. Instead, Amber breaks up with him, leading Gregory to take solace among his community of fellow educators, including Janine, who is still dating his best friend Maurice.
There's a bar, and there's Janine's shoulder to lean on, as well as a bewitching "living classroom" made of flowers and plants. Gregory is heartbroken. Janine is trashed. They sneak into the potted paradise and are agog at the blossoms enveloping them. Of course they kiss.
On top of only being in its second season, "Abbott Elementary" is one of the most smartly written comedies on TV. Brunson and her staff know that getting these two together is at once what the audience wants and could be terrible for the show. Thus in the light of the next workday, long after the influence of booze and perfume has faded, Greg and Janine decide this was a mistake, a thing that just kind of happened.   
"Like when I hang up with my Internet provider after they finish helping me reset my Internet and I say, 'OK! I love you! Bye!'" Janine stammers in one of the show's wall-breaking confessional segments. "Do I really love my Internet provider? No. Because their networks aren't reliable! And I'm dating Maurice, so . . ."
With this "Abbott Elementary" follows a long tradition of inserting romantic tension into its ensemble comedy through a pair of people who are obviously perfect for each other. For now, and for the show work, Gregory and Janine operate better as a will-they-won't-they tease than a couple. It's risky to even tap into that energy source since if you expend the charge too soon it can burn out the whole show. But once they pop that bubble, possibly a few seasons in, that classically signals the beginning of the end of "Abbott."
But here's a potentially unpopular opinion: what if Janine and Gregory never go the way of Sam and Diane? What if the chemistry that sets that kiss aglow evolves into a profoundly platonic, practical, warm and supportive kinship? Go ahead and take it to the next level with these two, minus the amatory innuendo.
Go ahead and take it to the next level with these two, minus the amatory innuendo.
Enough of us are accustomed to expecting pairs of attractive lead characters of the opposite sex on a TV show to bone at some point that proposing the opposite of horny abandon sounds weird and boring. The track record doesn't lie: The main characters on "Castle" end up married, as did the pair on "Bones" despite Dr. Temperance Brennan reviewing her first lip lock with her longtime law enforcement partner Special Agent Seeley Booth by likening it to kissing her brother.
On the "Magnum P.I." reboot, Thomas Magnum and Juliet Higgins opened the recently premiered fifth season by getting it on. Why not let Janine and Gregory follow the natural progression of things?
To be honest, they probably will. This is a network show, never forget. It's also a broadcast comedy that builds realistic storylines around the not-at-all hilarious shortchanging of our public schools in a way that we get the message and a few spit-takes.
Maintaining and expanding Janine and Gregory's friendship presents an opportunity for the writers to dig into the very different obstacles Janine and her fellow Abbott teachers face in terms of being taken less seriously as women than Gregory would be as a man on a management track, for instance. In real offices, such friendships between men and women are tested by executive-level decisions and behaviors that favor men.
Since Gregory is written as an overachiever with a keen sense of fairness and organization – a male Janine, without the natural aptitude for caring for children – placing him in a position to be an advocate and a friend would be a challenge.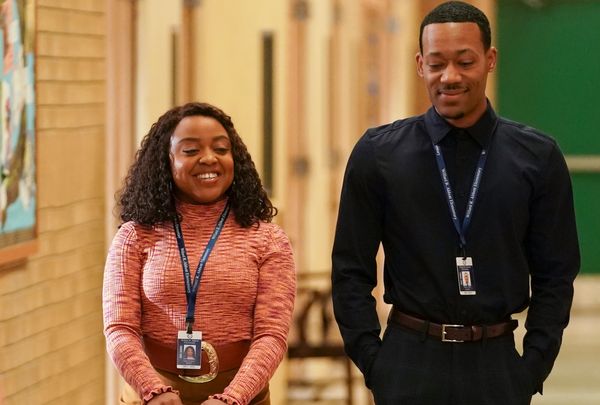 Quinta Brunson and Tyler James Williams in "Abbott Elementary" (ABC)
It could also be a means of presenting an optimistic vision of how lovely a platonic friendship like that could be, especially since there simply aren't many such pairings on TV right now. And the romances shared by the couples listed above are nowhere nearly as memorable as, say, the lasting bond between Leslie Knope and Ron Swanson on "Parks and Recreation."
"Abbott" is one of a few shows in this season where colleagues work in close quarters under enormous pressure and somehow manage not to want anything from each other beyond the capability of their best selves. That's the workplace family operational standard, as seen on TV. Explored far less frequently is the process of two people who work together, share common interests and behavioral traits, and, miracle of miracles, have no urge to sleep together.
Of the few shows tripping down that road less taken, the one that's faced the heaviest "just do it already" tension from viewers may be FX's "The Bear" and its co-lead characters Carmy (Jeremy White), a celebrated chef who takes over his family's hole-in-the-wall sandwich joint, and Sydney (Ayo Edebiri), a sous chef as talented as he is drawn to work with him out of a yearning to improve her craft.
"Abbott" ... colleagues work in close quarters under enormous pressure and somehow manage not to want anything from each other beyond the capability of their best selves. That's the workplace family operational standard, as seen on TV.
Carmy's place, The Original Beef of Chicagoland, is a claustrophobic bedlam run by a close-knit team initially unwelcoming to Carmy and Sydney, but eventually they all jump into the trenches together to keep the place alive. It doesn't work, although their collegiality survives to see the place return to fight another day, and in a new season.
In watching the show it's obvious that Carmy and Sydney are connected by a shorthand nobody else gets. None of it is sexual. And yet, as the fandom for the show escalated last summer, so did the volume among the 'shippers clamoring for the culinary comrades to just make up and kiss already.  For what purpose? Carmy and Sydney's magic is in the support and trust they lend each other, a killer combo Carmy left out in the cold too many times before swallowing his pride to ask her forgiveness.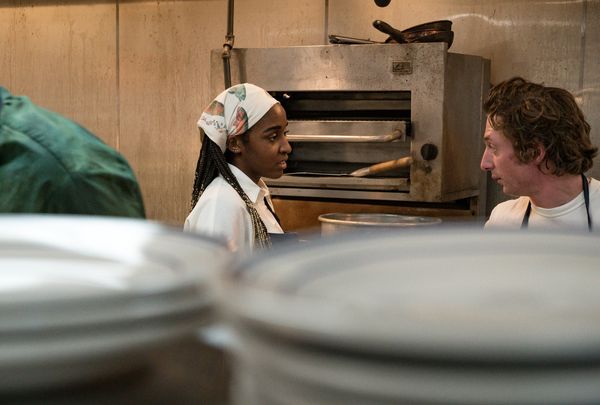 Ayo Edebiri and Jeremy Allen White in "The Bear" (FX)
And Sydney's choice to return would be out of love – for the culinary craft, for the excitement of helping to build a restaurant from scratch, but not for Carmy. They may not even be friends, and recovering from that schism offers fresh territory to investigate in the new season and beyond.
"The Bear" doesn't come close to the sentimentality of "Abbott," which operates out of a place of warmth for even its most selfish character – and Principal Ava (Janelle James) has her eye on landing Gregory anyway, leaving plenty of opportunity for chuckle-sparking double entendre.  (Although it will always be fun when anyone proposes going to Bone Town, the local rib joint.)
---
Want a daily wrap-up of all the news and commentary Salon has to offer? Subscribe to our morning newsletter, Crash Course.
---
The closest emotional parallel might be "Ted Lasso," which reaps a rich harvest from its broad ensemble in many ways. Some relationships stand apart from others, however, particularly the friendship shared by Jason Sudeikis' Ted and Hannah Waddingham's Rebecca. The series begins with the wealthy, sophisticated Rebecca looking down her nose at the American cornhusker but soon softens her into viewing him from a common place of heartache.
This is a model romantic setup. Song lyrics swoon over hate turning to love. And they do love each other, only not . . . that way. They are boss and employee, and – partly due to Ted's habit of socially overreaching, it must be said – they're also honest brokers with each other in terms of their feelings and mental health. Rebecca and Ted need each other the way great friends do, and that's all they should be.
"Shrinking," on the other hand, blows the workplace friendship dynamic halfway into its first season by having Jason Segel's Jimmy Laird drunkenly tumble into bed with his co-worker, and friend – and dead wife's best friend – Gaby (Jessica Williams). The apparent excuse is that they're both messes. Jimmy lost his wife in a car accident, and Gaby's divorce was recently finalized so, sure. People make drunken mistakes, you know, like Gregory and Janine's kiss. But they keep on making it. It could work out, but it's all disappointingly obvious.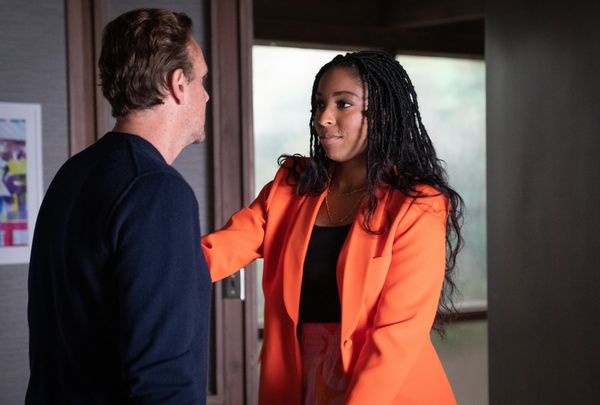 Jason Segel and Jessica Williams in "Shrinking" (Apple TV+)
"Shrinking" already weakens the boundaries between the professional and personal lives of its characters, so in some respects, Gaby and Jimmy's whatever-it-is is a natural next stumble on the oopsie hike that comes from emotional disarray. But it's also a well-trampled path.
Picture how they could have been if they had put their backs into another version of supporting each other and recovering from heartache. Or you could simply watch a version of that play out in Apple TV+'s other series executive produced by Bill Lawrence. The one also that stars "Shrinking" creator Brett Goldstein.
Janine and Gregory might do something similar on "Abbott" with tremendous success and without ever sharing a bed. Then what? Here's how Janine games out one possibility: "We'd see each other during the day and at night? We'd, you know, tell each other stuff and feel comfortable together? We'd share our deepest thoughts and a life?"
Yes, please. We'd love to witness that develop between these two.
Then again, the relationship she's imagining here is romantic, and the joke is Janine's denial that this is exactly what she wants. "It's gross, honestly, just . . . ugh," she says.
It's not gross. It's just . . . typical.
Read more
about this topic