The Depp v. Heard trial continues to generate heated discussion, headlines and controversy months after its conclusion. And its latest revelations highlight just how much more of a circus the trial could've been.
To recap, on June 1, a jury at the Fairfax County Circuit Courthouse in Fairfax, Virginia, awarded actor Johnny Depp $10.35 million for defamation and actor Amber Heard, Depp's ex-wife, $2 million. Heard's payment was awarded after Depp was found liable for statements he had made. Depp's payment came about after Heard published an op-ed in the Washington Post on being an abuse survivor. 
Though the op-ed did not name Depp or anyone as Heard's abuser, Depp sued Heard for defamation as a result of its publication. Heard then sued Depp for damages to her career, resulting in a lengthy, highly-contentious and publicized trial, including hours of testimony where both actors took the stand.
In early July, Heard's legal team requested a mistrial after it was revealed that one of the jurors on the case had not actually been called for jury duty and was impersonating another person who had been summoned. The motions for a mistrial were denied, though Heard still has the option to appeal. 
This past weekend, documents in the Depp v. Heard case were unsealed. Totaling more than 6,000 pages, the documents reveal more details, arguments and twists in this lengthy and convoluted case. They offer new insights into what could have been.
Here are some of the more shocking revelations in the newly opened Depp v. Heard file. 
01
Celebrity name dropping (and bypassing Marilyn Manson) 
Famous names pepper the unsealed documents. In pre-trial information, Heard's lawyers submitted the claim that the actor had lost "$47-50 million" in income over about three to five years as her career faltered due to a smear campaign run by Depp and his cohorts. As part of the claim, her legal team included actors that were comparable to Heard as far as expected salary and stature, including Zendaya, Jason Momoa, Gal Gadot and Chris Pine. As the Daily Beast writes, "All of these actors were clearly much bigger stars than Heard."
While actor James Franco was dragged into the testimony of the trial when Heard claimed Depp "hated" Franco for supposedly having an affair with Heard on the set of "Pineapple Express," rocker Marilyn Manson's name is in the newly opened documents. Believing Depp's association with Manson would make the actor look bad, Depp's legal team "fought hard" to omit any references of Manson, accused of multiple accounts of abuse, including rape. Manson's relationship with Depp is on display in text messages, unsealed with the documents:
02
Depp's team tried to shame Heard with nudes
Something Depp's legal team wanted to put into evidence? Personal photographs of Heard that were nudes. Depp's lawyers also wanted to include in trial the information that Heard had worked as an exotic dancer in the past before meeting Depp. According to Heard's legal team, who argued that both the nudes and her past work as a dancer were "irrelevant," Depp's lawyers wanted to erroneously: "frivolously and maliciously suggest or imply that Ms. Heard was at one time an escort."
03
Heard could have received a lot more money
Heard and Depp divorced in 2016, after about a year of marriage. The two had been together for multiple years before marrying. During their marriage, Depp filmed "Pirates of the Caribbean: Salazar's Revenge," the fifth "Pirates of the Caribbean" film. This would make the profitable film a community property asset in the marriage, meaning Heard was legally entitled to half the income. Depp's salary for the film? Reportedly, up to $90 million.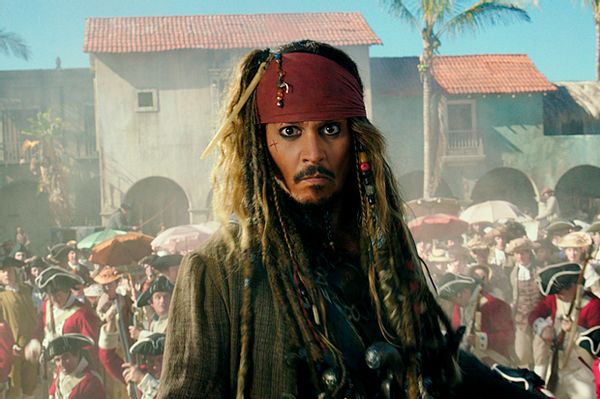 Johnny Depp as Jack Sparrow in "Pirates of the Caribbean: Dead Men Tell No Tales" (Disney Enterprises)Heard left that money behind. Despite her lawyers' insistence that she include the film in her community property with Depp, Heard refused, wanting to be out of the marriage as swiftly as possible. As revealed by the documents, her legal team wrote to her in an email "true to your word, that this is not about the money." This information was not shared during the recent trial as the judge struck any evidence from the Depp and Heard divorce proceedings.
04
Potentially tampered evidence 
As The Daily Beast reported, audio and photos submitted by Depp as evidence include metadata that show "the items were 'Modified' days before their production in this case." Metadata is information written into digital files. Depp only submitted one modified version of audio files, yet metadata indicated the file had been created, changed about a year after its creation, then modified again. "This raises significant concerns of manipulation, alteration, and deletion."
Heard's team requested the full, unedited version of audio evidence, but their repeated requests were denied. Photo evidence submitted by Depp of injuries he allegedly received from Heard also reveals metadata signs of manipulation, which leads to concern that evidence may have been altered. 
---
Want a daily wrap-up of all the news and commentary Salon has to offer? Subscribe to our morning newsletter, Crash Course.
05
Other accusations of abuse — and prescriptions – against Depp
Depp's team attempted to strike from inclusion in the trial other accusations of abuse by Depp, including testimony from actor Ellen Barkin who said that Depp had thrown a bottle at her while they were in a relationship. Depp's lawyers also wanted to exclude the testimony of a psychologist who, according to The Daily Beast, "met with Heard for 29 hours over four sessions and determined that she suffered from PTSD as a result of 'intimate partner violence' by Depp." 
The legal team of Depp also wanted to exclude information on the actor's use of alcohol and drugs in Heard's presence and Depp's "medical condition and medical history," including a list Heard's team attempted to put into evidence of medications Depp allegedly took, including Valtrex, commonly prescribed for herpes, and Cialis, used to treat erectile dysfunction and enlarged prostate.