Kathleen Turner has played several moms on screen, from the classic titular "Serial Mom" for John Waters, to the dour, protective Mrs. Lisbon in "The Virgin Suicides," and the living-in-denial Eileen Cleary in "The Perfect Family." She also famously portrayed Chandler Bing's parent on "Friends." 
" I believe that independent films are where the real creativity is today."
In her latest film, the delicate romantic drama, "The Swearing Jar," Turner plays Bev, who has a complicated relationship with her son Simon (Patrick J. Adams of "Suits"). She is admittedly, "not the warmest person." Simon actually says this about his mother: "She makes me want to kill people with my hands." Moreover, when Simon announces that he and his wife Carey (Adelaide Clemens) are going to have a baby, Bev refuses to let him utter the word, "grandma." 
Bev is flinty, and Turner, with her distinctive voice and been-around-the-block attitude, makes her character a tough, uncompromising woman. When Carey steps out of Bev's car to take a phone call, Bev drives away. 
"The Swearing Jar" captures the shifting family dynamics between these three characters as a situation unmoors them all. The rhythm of the film makes it easy to get caught up in the characters' lives. 
Turner spoke with Salon about her new film, playing mothers, and her career as a whole.
Maybe let's start with this, since the film is called "The Swearing Jar." Are you big into cursing that we should keep a running tally of your F-bombs, or are you going to be all Beverly Sutphin and scold me if I use "the brown word?" 
I am given to casual cursing. I wouldn't say I'm heavy-duty. I rarely say "F**k," and when I do, I really mean it.  
I was wondering if you were going to split the difference and say, "Pussy Willow?"
No, won't do that. Gave that up years ago.
What appealed to you about "The Swearing Jar?" 
" I don't mind mothers. We're real, and we're powerful, baby!"
One of the things that drew me to the film was all the women involved. It was directed, written, and produced by women, and that was important to me. I would like to support women's films as much as I can. I believe that independent films are where the real creativity is today. I love a lot of Marvel. Right now, I'm in love with the "She-Hulk," but I don't want to do that work. 
What observations do you have about playing mothers on screen? It is certainly a pivotal moment, a turning point in an actress' career when they are cast as mothers — 
I'm resisting grandmother. I'm still not open for that, although I have been receiving scripts that put me in my 70s — and I'm not 70 yet. I accepted mother roles some time ago. Being a mother, I have a great admiration for them. And I have a wonderful relationship with my daughter. I am thrilled and grateful for it. We both live in New York. And I'm very lucky, because I lived most of my life far away from my mother, who lived in Missouri. Although I would go back at least three times a year, I hated going there. They keep wanting to name streets after me, and I kept telling them, "Please don't." I am very fortunate. I don't mind mothers. We're real, and we're powerful, baby!
My question is more that male actors never really have to contend with that. If a male actor plays a father, it is not as big a deal. 
Aah, yes, it is a classification and a category, and men don't have to deal with that. Hell, what's new about that?! They still get paid a hell of a lot more than we do. If they accepted the same responsibility, that would be nice. 
And when men do get to play dads on screen, it is often a comedy, "Mr. Mom"-type stuff. They can't change a diaper or cook. Mothers are often polarized into earthy, warm, accepting tolerant moms or . . .
The cold bitch. We have to go back to the studio s**t. Thank God that festivals have become important for independents. Studios are not a creative system. They are banks. They are formula, and their research tells them what sells tickets. That's all they are focused on. I read an interesting piece in the New York Times about motherhood not being a given. The mores are changing. We are not defining women only by whether or not they are mothers or how successful they have been as mothers — i.e., how successful their children have been. We are starting to put that onto fathers as well. 
"I want women in every non-essential emergency profession to agree on a day and stay home."
In this age and in this time when women's bodies are no longer considered their own by so much of the country, this burden of motherhood cannot be considered universally a blessing. It is not. It's starting to really — myself included, of course — enrage women because we are not simply vessels. We have a hell of a lot more to do with our lives and our community and our country. And to relegate us to vessels, well, I want to start fires. 
I love that women are reacting to the repeal of "Roe V. Wade" by registering to vote in massive numbers. If people accept things as status quo, that's the end of society.
Pretty much! I have had a thought for years and it's absolutely terrible, and I've been told time and time again not to speak of this — but I want women in every non-essential emergency profession to agree on a day and stay home. I'm not asking to gather under banner, just sit down. I just would love to see the country then. 
I had dinner with my mother last Sunday, and she was saying that women in the post-war years were not expected to go to medical or law school, but become teachers, nurses, and secretaries. They couldn't have checking accounts or credit cards in their own names. 
When my dad died, my mother's credit cards were canceled because they were all through him. I'm not saying we haven't come a hell of a long way, but we shouldn't be having this fight right now. I marched 40 years ago for the ERA and Planned Parenthood as I have for the last 40 years, but this is unbelievable to me.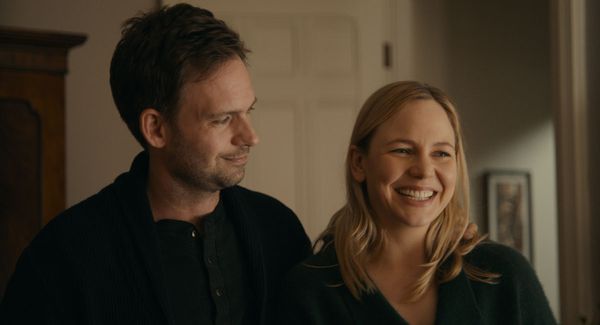 Patrick J. Adams and Adelaide Clemens in "The Swearing Jar" (Gravitas Ventures)
Bev is wise and jaded, so I think you're perfectly cast. She enjoys Manhattans, has given up on men, and pretty much speaks the truth, with candor. How did you find her character? 
She's a little bitter. Her husband died but she considers it that she's been left. She is not a very kind woman or very compassionate in her relationship with her son which could use some work. Carey, the role Adelaide played, makes you think Bev would value that more. She learns to do that. She's a very selfish woman. I'm not judging. Not everyone is explicable or easily defined, nor should they be. God, I hope nobody tries that on me! I think Bev could have given more. 
I loved Bev's advice to Carey in one scene about being happy. She says, "Cling to it. Memorize it." What moment in your life were you so happy that you cling to it and memorize it?
I'm happy to say many. Many, many, many. [Laughs.] I am a very fortunate woman.  I have had extraordinarily wonderful work colleagues. I am working on a piece I created called "Finding My Voice," a life story show. When I sing with the pianist, I am so filled up with happiness. A lot of that has a lot to do with breathing, and that's a good thing to feel. But just being part of creative process, performing, teaching, and writing. I'm going to be working with the graduate students in acting at the University of Virginia next fall. It's just so satisfying. I don't mean to sound Pollyanna-ish — I am not. But when you have time — and I've been doing this for 45 years now — to simmer, you figure out what you love, and I love creating.
Another smart line Bev has is when she says, "Secrets killed my marriage." There is a secret that Bev keeps in the film, and she does it to be protective. What are your thoughts about marriage and honesty and communication? Bev says she is not one to give romantic advice, but I'm curious about your thoughts about relationships, which Bev says are "rare and miraculous things." 
Bev has had time to think about her marriage, and I think she has real regrets. She was secretive, and he might have been too. But they weren't sharing with each other. My marriage was 22 years — most of great. I don't think that there is any formula. You know, wouldn't that be nice — if I do this, this happens . . . It doesn't work like that. You go day-to-day. When you have a larger family, with parents, siblings, and children, you have to put all of that info formula and keep focus on each other. That's where many of us go wrong. I think that's where I went wrong. I was so involved with my work and so loving it, that I didn't give him the same priority. I'm not saying it's anyone's fault, but we did not have that common ground of understanding that I hope would be a good relationship.
Bev also says, "Go after what you want." Can you talk about how you did this in your life and career? 
In January on HBO, I play Dita Beard in the "White House Plumbers," who blew the whole f**king cover — there you go! — off Watergate when she wrote a check for $400,000 to Mitchell. 
It stars Woody Harrelson and Justin Theroux. It's the funniest damn thing. I'm wearing polyester and nylons and a wig, and I looked in the mirror and said, "Do I have to?" And they went, "Yes!" 
I was thinking of contrasts in roles. Let's go back to "Swearing Jar."
Let's talk more about your career. Like many people who first saw you in "Body Heat," I responded to you being so sultry, and I like that you shifted to comic and dramatic roles in "The Man with Two Brains" and "Romancing the Stone," before "Prizzi's Honor" and "Peggy Sue Got Married." You actively avoided being typecast. Did you feel you had something to prove because it was too easy to be the femme fatale type?
It was too boring, and what kind of lifespan does that role have? The first thing I wanted to do was counteract that. "The Man with Two Brains" was a spoof of the femme fatale. "I love to see the veins in your neck throb!"
Then there is, "Into the mud, scum queen!" 
Oh yeah. Never live that one down! That was absolutely deliberate. Can you imagine when I went from "Romancing" to "Crimes of Passion." You should have heard the f**king screams! — there we go! — the screams from agents and everyone. "You can't do this. You can't work with him." But Ken Russell is a genius. He doesn't always make great films, and I don't' think "Crimes of Passion" is a great film, but it is some of the best work I've ever done, so there!
I recall having high hopes for you and "V.I. Warshawski" and an expectation for you to play a series of films based on the character.
So did I. And then here's what happened: They sold the character to Disney, and I wouldn't work with Disney, so it died. 
"V.I Warshawski" was a film you headlined, and it didn't turn out as well as it could have. Whereas "Serial Mom," which you headlined three years later, has become a cult classic. Like those parts, Bev and many of your other roles provide you with characters that have the courage of their convictions. Were these parts the ones you were being offered, or just the best of what was available? Was there an agenda to your career?
They were always my choices. Some of the roles I have been offered over the years which are very much the same as the roles I done before. They bore me. Been there, done that. I have no desire to do the same thing I know I can do or have done. It's more interesting to explore something I haven't done yet. That has always guided me. 
---
Want a daily wrap-up of all the news and commentary Salon has to offer? Subscribe to our morning newsletter, Crash Course.
---
Is there a role you wanted and didn't get?
Unfortunately, it was too early, and I was already shooting "Body Heat." Jessica Lange got  . . . that extraordinary film star. I read the script for "Frances" when I was shooting — we were on the same lot. I just wanted "Frances" very badly. I wanted to see if they would wait. They got Jessica, so there you go. There are not many others I regret. 
What about the fact that an entire generation knows you as Chandler's mom on "Friends? 
It's very useful. "Romancing" and "Body Heat" were 35-40 years ago. This generation doesn't know them, but everybody watches "Friends."
"The Swearing Jar" is available on demand on Sept. 23. Watch a trailer via YouTube.