"Creed III" is promoted as a boxing movie, but is really a tale of pain, regret and the power of brotherhood.
For those who haven't been following the franchise, Michael B. Jordan stars as Adonis Creed, the illegitimate son of Apollo Creed (Carl Weathers) from the Rocky movies in the '80s.
He's the best fighter in the world, has a beautiful family of his own and able to retire without concussions and brain damage. Win, win, win. 
In "Rocky," Apollo is a superstar boxer,who gives a title shot to an unknown Italian brawler named Rocky Balboa (Sylvester Stallone). Creed pounds on Rocky during their first bout, but ultimately learns to respect the underdog from South Philly, who would officially take his belt in "Rocky II." Obviously the movie is called Rocky, so Balboa would become the champion for the most part. Apollo Creed, who still has plenty of fight in him by the time "Rocky IV" rolls around, steps back into the ring and is beaten to death by Ivan Drago (Dolph Lundgren).
What we didn't learn in those '80s movies, is that Apollo had a baby with his side chick who would be named Adonis, the man that would eventually grow to be one of the most ferocious fighters in the history of the sport. 
In the first "Creed," we are introduced to young Adonis (Jordan), at a group home in Calforina, as a troubled teenager, who took pleasure in rearranging the faces of the kids that tried to bully him. Apollo's wife Mary Anne Creed, played by Phylicia Rashad, becomes aware of Apollo's love child, and adopts Adonis from the group home – agreeing to raise him and make sure he has all of the resources needed to be productive. By the time we get to "Creed III," Adonis' success is evident. He's the best fighter in the world, has a beautiful family of his own and able to retire without concussions and brain damage. Win, win, win. 
The story picks up when we meet Diamond Damian Anderson played by Jonathan Majors. Creed exits his gym, and sees a crusty Damian in unintentionally worn denim, posted up on his shiny Rolls Royce. Creed is defensive at first, until he finds out that this is a reunion with an old friend. The two men catch up over a meal – mainly reflecting on Adonis' success. During the conversation we learn that Damian served 18 years in prison. There's a flashback at the top of the film that showcases Damian's boxing skills – and lets us know that he carries a pistol, but by the time we reach the restaurant, we also learn that Damian had once sacrificed his life and freedom to protect Adonis.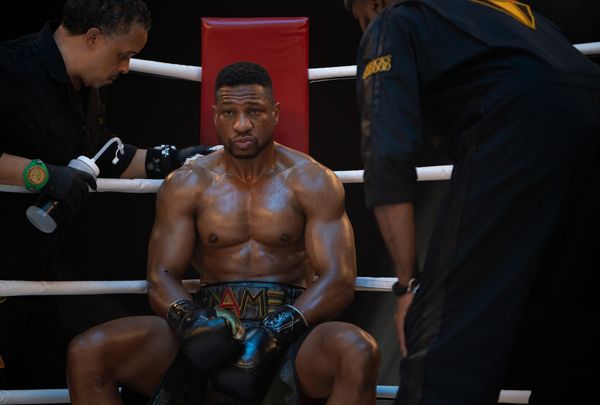 Jonathan Majors in "Creed III" (MGM)
Majors does a brilliant job of looking and selling the part of the broken friend turned villain.
We learn that the two men had been leaving a bout back when they were teenagers, in search of post-victory snacks. While entering the store, Adonis, notices an abusive house dad, Leon, from his days at the group home. Creed being Creed, he pounds Leon's face into the concrete, until Leon's friends join in, to jump Creed. Damian swoops in, waving his pistol, and saving Adonis by clearing the scene. The cops pull up, Creed takes off, and Damian is booked for firearm possession. 
Over the years, Damian made multiple attempts to reach out to Adonis while serving his time in prison; however, Mary Anne thought he was a bad influence and did not need to be a part of Adonis' new life. By this point, Damian has no interest in being a part of anyone's life. He wasted so many years behind bars and couldn't see past revenge – it was time to collect. 
The pacing of Damian's character is where "Creed III" is at its best. Majors does a brilliant job of looking and selling the part of the broken friend turned villain. His stance, humility and willingness to accept the hell that was his life easily pulls the heartstrings of both Adonis and viewers alike. Damian snakes Creed in pursuit of an opportunity, and no one sees it coming. Damian's rise, which could have went terribly wrong – is also done extremely well. A no-name gets a title shot because of his proximity to power, teaching viewers how power actually works in the real world. 
Adonis' growth as a father and learning the best ways to love his daughter Amara Creed, played by Mila Davis-Kent also deserves a nod. Too many of these action movies invest so much into the slugfest and not enough time into developing what happens outside of the ring. We see Jordon dressing up like a frog for his daughter, taking up for his daughter after she clocks a bully in the nose and sharing his passion for fighting against his wife Bianca's (Tessa Thompson) will.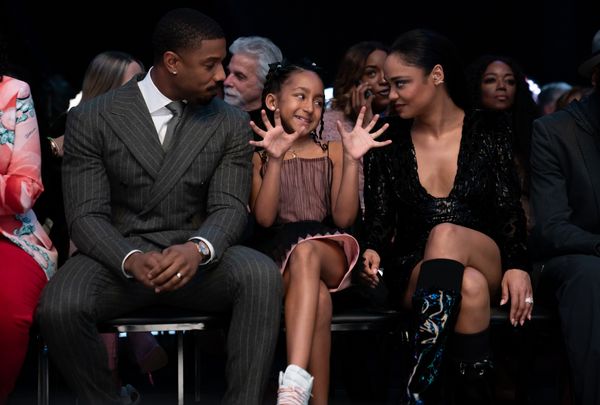 Michael B. Jordan stars as Adonis Creed, Mila Kent as Amara and Tessa Thompson as Bianca in "Creed III" (Eli Ade/MGM)"Creed III" is at its worst when Adonis decides to fight Damian. Why would Adonis fight Damian – he literally had nothing to gain? For starters Adonis loses the only mom he really knows, Mary Anne in the film. And then Creed is breaking down, his body is damaged from years fighting and unlike many fighters, he retires on top. So why risk it all to fight Damian – a boxer with a shallow record who clearly cares about vindication and winning more than honor? Creed appeared to be blindly driven by passion in two previous movies, so why is he still making terrible decisions? Shouldn't he be growing as a person? And why would Bianca be on board with this decision, offering zero pushback? Creed, who's enjoyed more money and power than one person needs has nothing to gain, still jumps in the ring. The juice doesn't seem worth the squeeze. 
This is also the first "Creed" movie where Sylvester Stallone does not make an appearance. The absence of Rocky isn't missed because Creed doesn't need the Italian Stallion in his corner anymore. The franchise has moved far beyond the father and son relationship between Creed and Rocky – and has exploded into the realm of brotherhood, Black healing and what that looks like. While Rocky will always be an important figure in the Creed franchise, his presence had no place in this tale. 
---
Want a daily wrap-up of all the news and commentary Salon has to offer? Subscribe to our morning newsletter, Crash Course.
---
The film is about brotherhood – both Creed and Damian are hurt and forced to process their trauma in different, but also similar ways. The choice to not make the two fighters sworn enemies at the end of the film proves that the creators are aware of the bigger issues that men who are strangled by toxic masculinity have to deal with in society, which proves to be more powerful. Having the old friends talk it out at the end and make amends, iss equally authentic, brilliant and a huge step in the right direction. 
The "Rocky" franchise dealt with the rise and fall of the fighter; "Creed" is dealing with the rise and fall of man, how we can all be better, and we should all be here for it.