No version of this year's Golden Globes telecast could avoid being awkward. NBC declined to air the awards show in 2022 in response to a 2021 Los Angeles Times investigative report enumerating all the ways that its sponsoring organization, the Hollywood Foreign Press Association, was exclusionary and ethically compromised – including the glaring detail that not one Black journalist was in its ranks.
That brings us to the 2023 awards show, where comedian and writer Jerrod Carmichael made history by becoming the first Black performer to host the Globes solo in its 80 years.
Carmichael didn't pretend he was hired because Helen Hoehne, the new president of the HFPA, is a big fan of his Emmy-winning special "Rothaniel." He probably didn't even assume that everyone in the room knew who he was.
"I'll tell you why I'm here: I'm here 'cause I'm Black," he announced to the room full of nominees as he launched into his monologue, conversationally adding. "I'll tell you what's been going on."
For more than a decade the standard for Golden Globes hosts was set by Ricky Gervais, a white man who functioned as an extension of the awards show's reputation for freewheeling unpredictability. Gervais set the bar for the so-called dangerous host, the type of ringmaster who refused to concede to the power in the room.
"One minute you're making mint tea at home, the next minute you're invited to be the Black face of an embattled white organization," Carmichael joked
Now, one wonders whether Carmichael softly realigned our definition of what danger is. His gentle delivery and anecdotal style seem tame in comparison to more showbizzy predecessors like Andy Samberg and Sandra Oh, Seth Meyers, or Jimmy Fallon. But they treated the HFPA's longstanding corruption as if they were in on the joke, if they touched upon it at all. Carmichael confronted it dead on with a calm acceptance that what the HFPA did was wrong, and everybody knew it but played along, and it'll probably slide back into its old habits soon enough.
Most people probably forgot the Globes weren't telecast last year. Even if it were, the show would be overshadowed in our collective memory by a certain newsworthy spat that went down onstage at last year's Oscars.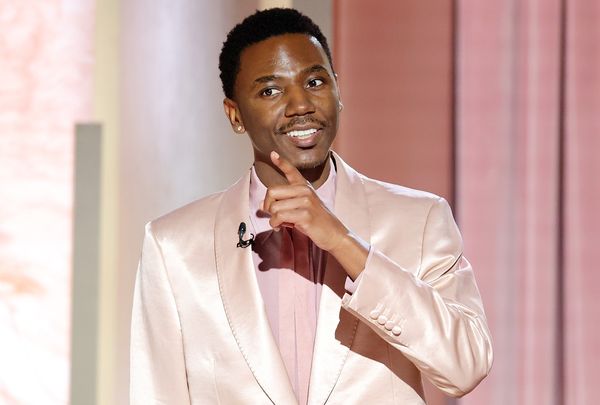 Host Jerrod Carmichael at the 80th Annual Golden Globe Awards held at the Beverly Hilton Hotel on January 10, 2023 (Rich Polk/NBC)
Either way, it was useful for Carmichael to school us, casually sitting down on the top step leading to the Beverly Hilton's International Ballroom stage. Of the HFPA he said, "I won't say [they] were a racist organization, but they didn't have a single Black member until George Floyd died, so do with that information what you will."
He went on to explain that Globes producer Stephen Hill extended the invitation for him to host during a phone call.
"One minute you're making mint tea at home, the next minute you're invited to be the Black face of an embattled white organization. Life comes at you pretty fast, you know?" Carmichael deadpanned. "So I said 'Stephen, 'I'll be honest with you, I'm a little torn because you know, one, it's a great opportunity. Thank you for the call. But I'm only being asked to host this because I'm Black.'"
"And Stephen said, 'Let me stop you right there. You are being asked to host this show because you are talented. You're being asked to host this show because you're charming,'" Carmichael continued. "He said, 'You're being asked to host this show because you are one of the greatest comedians of a generation.' But Stephen's Black, so what does he know?"
Back in 2010, the prospect of Gervais' hosting made people giddy. But after a point, he became a symbol of what's wrong with both the HFPA and the show. The Globes has long had a reputation for being a festival of Hollywood narcissism due to the stars' habit of drunkenly blurting out expletives, claiming a level of heroism in their work, and thanking industry cronies the average person doesn't know or care about.
He was also a host who, for instance, helped normalize the antisemitic racist, homophobic misogynist Mel Gibson when he introduced him in 2011 with, "I like a drink as much as the next man . . . unless the next man is Mel Gibson."
But the HFPA tapped Gervais to host five times between 2010 and 2020, and his final gig was colored by the open mutual disdain he had for the room and vice versa.
Only Tina Fey and Amy Poehler came close to taking the gig as frequently – four times between 2013 and 2021, when the HFPA responded to the Times' damning report by enlisting a slew of Black presenters to window dress the ceremony where outstanding work and performances from Black creatives failed to be recognized. Fey and Poehler tried but failed to put a happy face on that flaming public relations dumpster. Skipping the following year was wise.
Theoretically, Carmichael's role in ushering its return was to delineate the divide between the old HFPA, whose ousted eight-term president Philip Berk referred to Black Lives Matter as "a racist hate movement," and this new one that the comic claims paid him $500,000 to confirm what we already know about how this world works.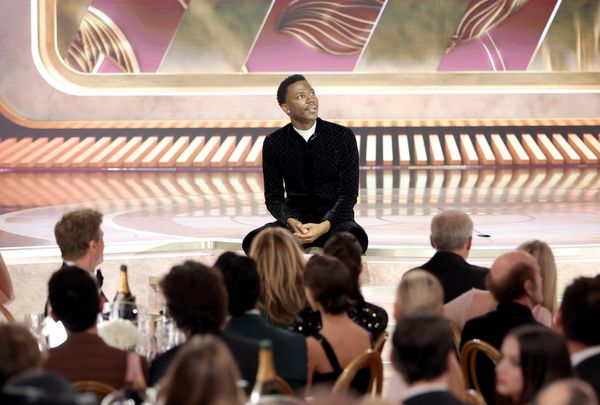 Host Jerrod Carmichael sits during his opening monologue at the 80th Annual Golden Globe Awards held at the Beverly Hilton Hotel on January 10, 2023 (Rich Polk/NBC)
First, he waltzed through an anecdote in which he agonizes his concern about the moral and ethical issues he should have with taking the job with a (possibly hypothetical?) friend he identified as Avery. He said she halted him in his tracks with, "' Boy, if you don't put on a good suit and take them white people's money!' . . . and I kind of forget that like where I'm from, we all live by a strict 'take the money' mentality.
"I bet Black informants for the FBI in the 60s that, like, their families were still proud of them," he calmly cracked. "Like they were like, 'You hear about Clarence's new job? They paying him $8 an hour just to snitch on Dr. King! It's a good government job.'"
Then he joked about refusing to meet with Hoehne ("No thanks! I know a trap when I hear a trap!") and replying to her insistence that he take the meeting, with "What, they're gonna fire me? They haven't had a black host in 79 years, they're gonna fire the first one? I'm unfireable." (For the record, Lou Gossett Jr. co-hosted with Leslie Nielsen and Jane Seymour in 1993, technically making Carmichael its second Black host.)
Anyway, he got to the real truth-telling when he replied to Hoehne's desire to educate him on the changes the HFPA made with its diversity efforts by saying, "I'll be totally honest with everyone here tonight: I don't really need to hear that. I took this job assuming they hadn't changed at all."
This speaks to the weirdness of the Globes' TV return.
Save for Carmichael's measured jabs, it was business-as-usual along the red carpet parade.
Granted, the HFPA did make some strides since its 2021 exposure. According to a press release, it added 21 new members, including six Black journalists, along with 103 nonmember voters. They say the organization is now 52% female and 51.5% racially and ethnically diverse, changes that may have helped shape a winners' list that rewarded "Abbott Elementary" for Best TV Comedy along with its stars Quinta Brunson and Tyler James Williams, and Zendaya for her work on "Euphoria." In the movie categories,  "Wakanda Forever" star Angela Bassett triumphed, as did "Everything Everywhere All At Once" co-stars Ke Huy Quan and Michelle Yeoh, and "RRR" in the best original song category for "Naatu Naatu." All of this, along with the very-much expected Globe for Jennifer Coolidge's performance in "The White Lotus."
Nevertheless, the most significant indication that the HFPA still has wrongdoings to atone for was the absence of nominee Brendan Fraser, who accused Berk in a 2018 GQ story of groping him at a 2003 event.  ("I have more history with the Hollywood Foreign Press Association than I have respect for the Hollywood Foreign Press Association," the actor said in the magazine's recent cover profile. "No, I will not participate. It's because of the history that I have with them.")
---
Want a daily wrap-up of all the news and commentary Salon has to offer? Subscribe to our morning newsletter, Crash Course.
---
Otherwise, save for Carmichael's measured jabs, it was business-as-usual along the red carpet parade, where celebrities returned to being honored to participate in the Globes ceremony and pretend nothing was uncustomary. Other than the fact that all of this took place on a Tuesday night, that is. Sunday night football displaced the live show from its traditional perch.
The host busted out a Scientology wisecrack, hugging a trio of statues while claiming, "Backstage, I found these three Golden Globe awards that Tom Cruise returned. Look, I'm just the host briefly or whatever, but I have a pitch: I think maybe we take these three things and exchange them for the safe return of Shelly Miscavige." 
Host Jerrod Carmichael at the 80th Annual Golden Globe Awards held at the Beverly Hilton Hotel on January 10, 2023 (Rich Polk/NBC)
He took a mild swipe at the Oscars situation by saying that, off camera, they awarded Will Smith "the Rock Hudson Award for Best Portrayal of Masculinity on Television." Wisely he sidestepped that situation, letting Cecil B. DeMille award recipient Eddie Murphy address it straight on in his acceptance speech by advising people who aspire to succeed to pay their taxes, mind their business, and keep Will Smith's wife's name out of their mouths.
Carmichael, however, reminded us that all was not quite right by perpetually wearing an expression of feigned bafflement as to how he got there even as he explained why, in long run, that probably didn't matter. "I heard they got six new Black members," he said of the HFPA. "Congrats to them, whatever, sure."
He's probably not wrong; in its 80-year run, the Golden Globes has only had 35 hosts. From 1944 until 1982, and between 1996 and 2009, it was a host-free affair, setting an example of other awards shows to examine when considering whether emcees serve any purpose. Carmichael, in his quiet way, proves that they have a use in situations like these when it behooves a powerful but generally unnecessary organization to hire a skilled flogger for their show of penance in the public square – or on a stage inside of a swanky Beverly Hills hotel.
Read more
about the Golden Globes