In this era where little is truly new or original, remembering when should be its own genre. Many of 2022's zeitgeisty hits plug into things we loved in our youth, from Anne Rice to "Yellowjackets." To clarify, the "we" in this scenario is Generation X, the audience for which "That '90s Show" was designed.
Without a doubt its creators Bonnie and Terry Turner, joined this time by their daughter Lindsey, might take umbrage with that declaration of ownership. This is a broadly targeted family show in the same way that their Fox sitcom "That '70s Show," had mass appeal despite being attached to a decade once commonly thought of as tacky.
While never a massive hit, "That '70s Show" inspired broad viewer affection due to its multigenerational awareness. The teenagers are the focus, but they're also pubescent versions of the Boomers watching at home, enabling parents to make the case to their kids, and themselves, that they used to be edgy.
Everybody pilfers their elders' closets at some point; why shouldn't Netflix raid Fox's?
The sitcom's parents, whether that refers to Red and Kitty, or Donna's parents Bob and Midge, are stodgy, grizzled, intimidating or simply embarrassing. They're also loving, wise and supportive, the way we view(ed) our parents and grandparents.
A wide range of ages could claim some part of the Turners' comedy as their experience, which explains why the series lasted for eight seasons: It's the giggling baby resulting from an orgy involving a Disney Channel sitcom, "The Brady Bunch" and Richard Linklater's "Dazed and Confused."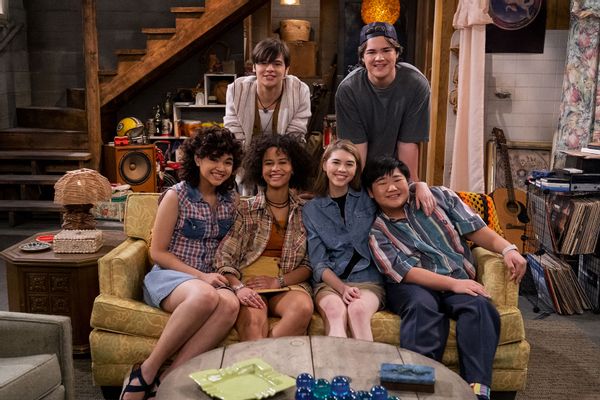 That '90s Show (Photo courtesy of Netflix)Hence, where others attempts to revisit old IP shuffle old casts into an updated version of their long-gone shows would earn dismissive sneers – "Fuller House," we're looking at you – "That '90s Show" makes the thought of sliding back into the good old Vista Cruiser alluring.
The first time we see Kitty she's dancing to the 1990 hit "Groove Is in the Heart" by Deee-Lite whose video made '70s-style bellbottoms and platform shoes chic again in the '90s, as they are in 2022. Everybody pilfers their elders' closets at some point; why shouldn't Netflix raid Fox's?
"That '70s Show" ran from 1998 to 2006, and that means those of us who were teenagers and 20-somethings in its heyday are likely parents and grandparents now. So as relatable as Eric Forman (Topher Grace), Donna Pinciotti (Laura Prepon), Michael Kelso (Ashton Kutcher), Jackie Burkhart (Mila Kunis), Fez (Wilmer Valderrama) and Hyde (Danny Masterson) were back then, "That '90s Show" forces us to realize that we have more in common with Red (Kurtwood Smith) and Kitty (Debra Jo Rupp) in 1995.
This is called out when Eric and Donna, now in their late 30s, are forced to suffer through a game of cards with Kitty and Red as the camera, placed on the kitchen table, veers from a tight shot of one person's face to another.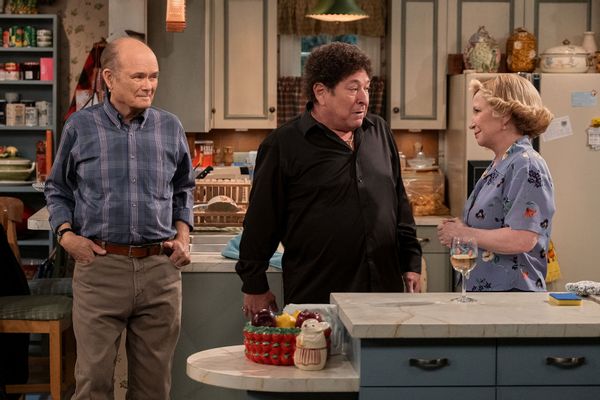 Kurtwood Smith as Red Forman, Don Stark as Bob Pinciotti and Debra Jo Rupp as Kitty Forman in "That '90s Show." (Patrick Wymore/Netflix)
"Enjoying yourselves, kids?" Red growls with sour mirth, adding, "You're upstaaaairs people now."
Then Donna makes the admission all of us do when we realize our youth is but a shrinking dot in the rearview mirror: "I knew it would happen. Just not this soon."
The surest sign that the Turners' formula still fits is that they and showrunner Gregg Mettler have believably evolved the old gang (minus Hyde who, for reasons, may as well have never existed) into late-30s versions we believe and still recognize while making their '90s progeny and their friends' reflections of the kids we were.
Eric and Donna's kid Leia (Callie Haverda) has both her parents' intelligence and a sensibility that might as well be a tug-of-war between Eric's awkwardness and Donna's chill. When they visit Red and Kitty in Point Place, Wisconsin, Leia campaigns to stay once she meets the new cool girl next door, Gwen Runck (Ashley Aufderheide), as she's rocking out to Alanis Morrisette.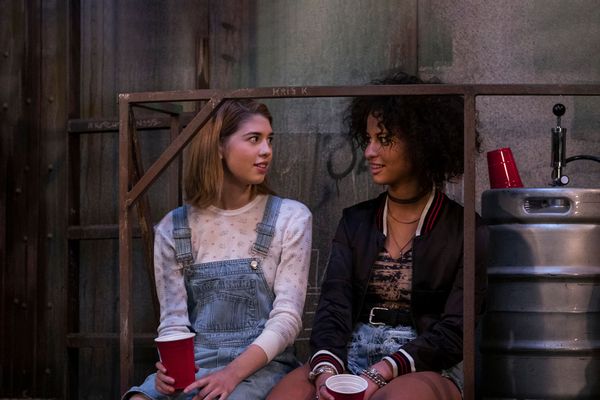 Callie Haverda as Leia Forman and Ashley Aufderheide as Gwen Runck in "That '90s Show." (Patrick Wymore/Netflix)
Once Gwen introduces Leia to the new basement squad, which includes Nikki (Sam Morelos) and her lunkhead boyfriend Nate (Maxwell Acee Donovan), Ozzie (Reyn Doi), and Jay (Mace Coronel), Leia campaigns to spend the summer with her new friends.
This was never a show that analyzed its era aside from thrifting a few jokes out of its cultural detritus bin.
Kitty is thrilled to relive the golden days of vicariously hanging out with her son's crew. Red, not so much. Soon enough the kids are finding forgotten stashes of "stuff" in crannies around the Formans' place. The camera is back to spinning around that old coffee table, capturing unfocused looks and nonsensical ramblings through the haze as Red sits in wait upstairs, threatening to put his foot up some wayward adolescent's ass.
"That '90s Show" is generational fan service, albeit one that tweaks its predecessor's flaws by, for example, featuring a culturally inclusive friend circle that eliminates the concept of any character being treated as the "other," and becoming a punchline generator. Perhaps the most overt example of that shift is Ozzie, who is gay. Before he says that out loud, Ozzie distinguishes himself as being the group's razor wit and anchor to sanity. But he's also very much a kid, demonstrated in a coming-out subplot that finds humor in his knack for overplanning above all else, and concludes by reminding us that Formans' place is a loving sanctuary above all.
---
Want a daily wrap-up of all the news and commentary Salon has to offer? Subscribe to our morning newsletter, Crash Course.
---
Having said that, Valderrama's return as Fez places him in a pleasingly farcical power position in the town. It's a strange thing to glean joy from watching a character with so many cringe-worthy traits, although Valderrama plays up his return in a way that both acknowledges that Fez was problematic back then while lampooning it by making his adult version even more problematic.
On the other hand, his enthusiastic reprise of the character and the way the new class captures that feeling for themselves give a person little other choice but to relax into its goofiness. Grace and Prepon are tickled by this reunion, as are Kutcher and Kunis, with the former plainly thrilled to witness a new Kelso carrying his dum-dum humor forward; Coronel's Jay is Jackie and Michael's son.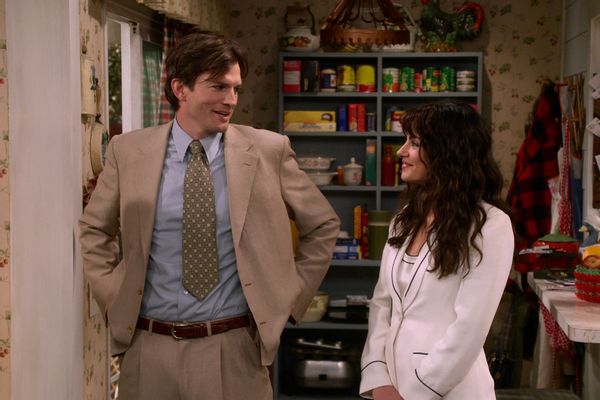 Ashton Kutcher as Michael Kelso and Mila Kunis as Jackie Burkhart in "That '90s Show." (Courtesy of Netflix)
Mind you, this was never a show that analyzed its era aside from thrifting a few jokes out of its cultural detritus bin, with a Zima mention here, a Glamour Shots montage there. Rather, we enjoy it for the way it makes its period-specific throwbacks induce spit-takes through the writing. We all remember when the Internet speed was measured in baud and experienced via screeching phone lines. Kitty makes sense of it by deciding that "the Internet is just two demons who are yelling at each other."
She's right, and in ways that a grandmother in the 1990s couldn't have pictured. The Internet is in fact a place where devils scream back and forth, but there are millions of them now, enough to remind us of how salubrious it can be to take a break.
"That '90s Show," like "That '70s Show" before it, is a cake slice of a Midwestern idyll, an easy diversion asking very little of us beyond the opportunity to snort at simple jokes about the figment of simpler times.
"That '90s Show" debuts Thursday, Jan. 19 on Netflix.