Rian Johnson must have known he was playing with fire, or the ire of critics, when he likened the experience of making his new Peacock mystery series "Poker Face" to "making 10 little movies."  
In case you didn't know this, most critics and other people who appreciate TV can't stand it when auteurs attempt to differentiate their TV project from what they see as common swill by describing it as an impossibly long movie.
Lyonne plays Charlie Cale, a Vegas cocktail waitress turned drifter with a near-superhuman ability to deduce whether someone is lying.
So when he told a room full of journalists covering the "Poker Face" press conference held as part of the Television Critics Association's winter press tour, "Every three weeks, we were starting work on a new movie . . . whereas usually, I'm used to doing the same one for several years," you'd have a forgive any impulse to wince.
In Johnson's defense, the director and writer of "Glass Onion" and "Knives Out" was describing the experience of making his new show, not the show itself – which both he and its star Natasha Lyonne ("Russian Doll") enthusiastically liken to vintage '70s and '80s crime shows. Plus, Johnson has worked in TV before, having directed what is widely considered one of the finest hours of "Breaking Bad": "Ozymandias."
"Poker Face" doesn't hide its affection for TV. If anything, it's a loving homage to "Columbo" and its title character's shuffle through assembling the pieces of a murder mystery.  Those shows pre-date the Dick Wolf-style of procedural and make the mystery-solvers as vital as the crimes. And Lyonne, with her raspy delivery and slightly hunched carriage, is precisely the type of person around whom Johnson and his writing team can endlessly build throwback mysteries.
Lyonne plays Charlie Cale, a Vegas cocktail waitress turned drifter with a near-superhuman ability to deduce whether someone is lying. It could be an answer to a question or an intentional misdirect, or an expression on their face. If Charlie witnesses someone lying, she can't help but call them on their B.S. – usually by reflexively blurting out, "Bulls**t."
"The intention with this show ... was the idea of doing a truly episodic case‑of‑the‑week mystery show."
This gets Charlie in the kind of trouble that leads her to skip town and abandon her old life after she catches someone powerful in a lie. The consequences place a target on her back that forces her to remain rootless to survive. Staying in one place too long amounts to a death sentence. The viewer is similarly free to drop into Charlie's adventures at any point and know the story won't lose them.
"The intention with this show, the thing that got me really excited about it at the start was the idea of doing a truly episodic case‑of‑the‑week mystery show, like the kind of stuff I used to watch constantly when I was sitting in front of the TV as a kid," Johnson explained – referencing  "Columbo," "Magnum P.I.," "The Rockford Files," and "Quantum Leap" – "all those shows where what I was doing was just watching daily reruns. I had no idea what order they were in, and that was part of the pleasure of it."
"Poker Face" plays up Johnson's and Lyonne's penchant for '70s cinematic aesthetics and technique as well. This shows up in everything from the honeyed filter on each scene to the run-down look of towns along the interstate where Charlie holes up to the yellow script used for the credits.
It also avails itself of the classic interpretation of Special Guest Star designation by attracting a roster of impressive actors that includes 2023 Oscar nominee Hong Chau, Adrien Brody, Nick Nolte, Cherry Jones, Luis Guzman, Judith Light, Chloe Sevigny, Jameela Jamil, Tim Meadows, "Everything Everywhere All at Once" Oscar nominee Stephanie Hsu and Lil Rel Howery.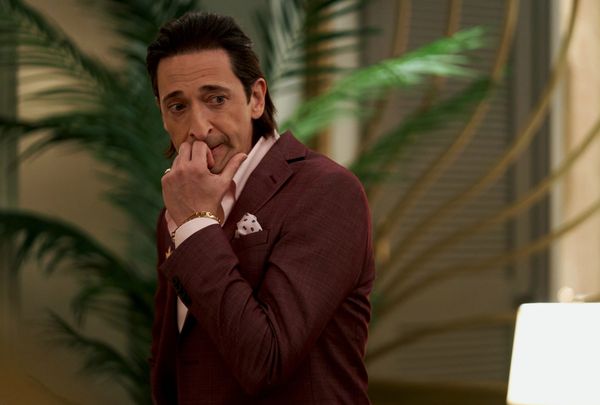 Adrien Brody as Sterling Frost Jr. in "Poker Face": Episode 101, "Dead Man's Hand" (Karolina Wojtasik/Peacock)For the couch-bound, Charlie's adventures offer something other than nostalgic tributes. Each episode allows us to vicariously enjoy a cross-country road trip, even if in reality the production faked most of Charlie's stops in sites across upstate New York. (An exception is the second episode, which takes place in the desert and returned Johnson to Albuquerque for the first time since working on "Breaking Bad." ("E‑mailing Vince and saying, 'Guess where I am?" it was kind of fun," he admitted.)
Lyonne constructed Charlie's personality out of pieces of Elliott Gould's Philip Marlowe ... Peter Falk's performances in "Wings of Desire" [and] "NYPD Blue" detective Andy Sipowicz.
That's why Johnson and the writers think of it as a "hang out" show, akin to the way viewers tuned in to the detective shows of yesteryear to spend time with Lieutenant Columbo, Thomas Magnum, or Jim Rockford. If the goal is to keep us excited about riding shotgun in Charlie's muscle car, we have to want to stick with the driver.
"When I saw Natasha in "Russian Doll," I thought, 'Here is somebody who has the presence and the charisma on the screen that I would just want to come back and be with her every week and see her win,'" Johnson told reporters.
Lyonne constructed Charlie's personality out of pieces of Elliott Gould's Philip Marlowe in Robert Altman's "The Long Goodbye" and Peter Falk's performances in "Wings of Desire." She also cited another influence who's just as leathery but perhaps less romanticized: Dennis Franz's  "NYPD Blue" detective Andy Sipowicz.  
Falk, however, has a special place in her heart. "I just love the guy. I love his oil paintings. So I think, sort of as somebody that's essentially just self‑taught based on my interests, I've always gravitated to him," Lyonne said.
She went on to joke, "I would love to go on 'Finding Your Roots' and discover that Peter Falk was some sort of deep, distant relation."
Since Charlie Cale's face helps sell an up-and-coming streaming service, the premiere episode of "Poker Face" drops in a reference that its target demographic is more likely to recognize than those TV heroes from half a century ago.
---
Want a daily wrap-up of all the news and commentary Salon has to offer? Subscribe to our morning newsletter, Crash Course.
---
Benjamin Bratt's Cliff, the head of security at the casino where Charlie works, compares her to "Burn Notice" hero Michael Weston. He's not wrong. The spy and the cocktail waitress share a few things in common besides existing under the NBC Universal canopy.
Like Michael, Charlie must stay off the grid and make money in any way that she can. She's also a genuinely good person who cannot let transgressions committed by bad people go unanswered, and who has a knack for stumbling into murder conspiracies anywhere she stops to take a breath.
So despite her better judgment, and the risks associated with staying in one place too long, Charlie gets to know regular people who turn out to be villains, along with nice folks who get caught up in their plans.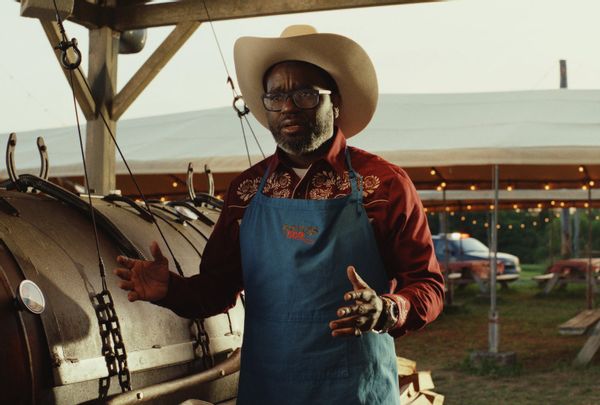 Lil Rel Howery as Taffy in "Poker Face": Episode 103, "The Stall" (Peacock)There's a rising sense in the industry and among professional TV watchers that audiences are tiring of the binge model of series consumption auguring the decline of all-at-once season drops and flabby serialized writing. The superior execution of "Poker Face" through its tautly rendered one-and-done hours is likely to throw kindling on that fire, especially if it becomes the show that finally enables Peacock to achieve liftoff.
Johnson is prepared to fuel that aim, even if it takes a while. " [There] are infinite stories to tell.  I guess that, for me, is part of the pleasure of this, is as people watch more and more of the episodes and realize how distinct and different every single one is . . . it's a smorgasbord of possibilities of different worlds we can dip into in each episode and whole new mysteries in every single one. So, for me, there's endless possibility."  
The first four episodes of "Poker Face" premiere Thursday, Jan. 26 on Peacock.
Read more
about this topic