With more and more reboots, revivals, and adaptations being announced all the time, there's an argument to be had about the current state of pop culture and what appears to be a dearth of originality. But sometimes an idea is just so good and so timeless that one can't help but want to see it revisited. And that's the case for 2002's "Bend It Like Beckham." 
A sports-centric romantic comedy written and directed by Gurinder Chadha ("Blinded by the Light"), the film stars Parminder Nagra as Jesminder "Jess" Bhamra, an 18-year-old British Indian woman whose desire to play soccer puts her at odds with her conservative Sikh parents. While they want her to follow a more traditional path toward marriage and indulge in hobbies they believe to be more fitting for young women, Jess would prefer to follow in the footsteps of famous footballer David Beckham. So when she's recruited by Keira Knightley's Jules to play for a local amateur women's team, Jess must find a way to balance her cultural and religious identity with her ambition in the process.
---
Want a daily wrap-up of all the news and commentary Salon has to offer? Subscribe to our morning newsletter, Crash Course.
---
The movie, which draws its title from Beckham's trademark ability to bend free-kicks, has endured for nearly two decades in part because of the way it skillfully blends cultures and bends social norms in the name of progress and acceptance. But it's also remembered for its sense of humor, a charming romance between Jess and Johnathan Rhys Meyers' Joe, an unimpeachable love of the game and an exploration of how sports can not only bring people together but also help people find themselves.
If there were ever going to be a TV adaptation of the film, now would be the perfect time for it to happen, as "Ted Lasso" — an Emmy-winning comedy about an American college football coach (Jason Sudeikis) who takes over as the manager of an English Premier League team — has captured the zeitgeist at a time when American interest in the sport is also on the rise.
Based on a character created for a series of promos in the early 2010s when NBC acquired the U.S. broadcasting rights to the Premier League, "Ted Lasso" debuted in the summer of 2020. It was a pleasant surprise, not just because it was the first Apple TV+ series to break through to the masses, but because it was a charming, good-natured and much-needed escape from the anxieties and dread caused by the pandemic. But for all of the appeal of "Ted Lasso," a "Bend It Like Beckham" TV show could do something not even the all-mighty Ted could do: highlight diversity and multiculturalism, explore the global appeal of soccer, and put women and women's sports in the spotlight. 
Although AFC Richmond, the team at the center of "Ted Lasso," features players from around the world, the unfortunate reality of the situation is that we don't know much about them. The one exception is Sam Obisanya (Toheeb Jimoh), a rising star from Nigeria whose integrity leads him to protest the shady dealings of the team's biggest sponsor early in Season 2 and is even recruited by a billionaire from Ghana (Sam Richardson) to play for an African team later on. But the show hasn't done much to truly develop Sam. It feels like the only reason he's been given storylines is because he's been paired off romantically with Rebecca despite an inappropriate power imbalance the show has no real interest in exploring. 
It's not even immediately clear what position Sam plays. You can argue the point of "Ted Lasso" isn't the minutiae of the game or the outcome of the matches, and you'd be right because it's a workplace comedy and not a show about the game of soccer itself. But small details help to define characters and make them more than just faces in a locker room. The finer points of the sport tend to get lost in the weeds on "Ted Lasso" when they could give insight into these men and their relationships with one another, not to mention make us care a bit about their growth as players and the outcome of the matches we do briefly see. Even "Friday Night Lights," which is the gold standard of shows-about-sports-that-aren't-really-about-sports, made it clear what positions certain characters played, giving viewers a sense of their role on the team.
So in actuality, "Ted Lasso" has done little to develop or investigate its team or the larger world of soccer, which is the only sport with a truly global fanbase. The series spends more time on Ted being a fish out of water and the perceived culture clash between Americans and Brits than digging into the international players whose cultures and experiences as part of an English team would no doubt be more interesting, more personal, and add more depth to the narrative. Yes, the show is for American audiences, and yes, the show is called "Ted Lasso," but there is little reason it can't dig into the players more. The one time the show does attempt to highlight the fact the team has players from Mexico, Nigeria, Jamaica, the Netherlands and Canada — Season 2's Christmas episode — it also relies on jokes about colonization and not eating goats.
A "Bend It Like Beckham" TV show would be the perfect answer to this as its story naturally stretches across cultural and religious boundaries while exploring hybrid identities as a core part of its narrative. Its setup also creates space to engage in uncomfortable but necessary discussions about the real-world racism many players face. It's a topic that comes up in the film but "Ted Lasso" side-steps in the name of being upbeat, whimsical and funny. And in Season 1 these conversations might have felt out of place, but as the show has expanded in Season 2 and grown more topical amidst explorations of mental health, there is more room for the show to engage in deeper discussions of the sport at its center. "Bend It Like Beckham" does all of this very well in less than two hours in addition to being compassionate in its approach to navigating familial expectations, career ambitions and personal desires, especially as a woman. And it's that last point — the one about being a woman — that separates the movie from nearly all other sports films and TV shows and makes it truly worthwhile.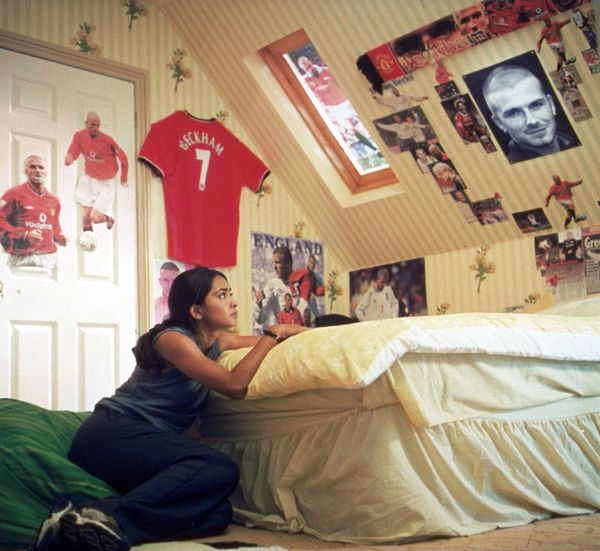 Parminder K. Nagra in "Bend It Like Beckham" (Getty Images/Sundance/WireImage)
Contrary to what American media would have you believe, women's sports are not a myth. Women play at every level even if it might not appear that way. The Women's National Basketball Association (WNBA) and the National Women's Soccer League (NWSL) exist and have fans. Their games are even broadcast on television (wild, I know). What's more, the U.S. women's national soccer team has actually outperformed its male counterpart, which hasn't competed at the Olympics since 2008 and failed to qualify for the 2018 World Cup, but the women have historically been paid much less (luckily, that could change soon).
It's not often female athletes can break out and become synonymous with greatness the way men so regularly do. And it's certainly harder for women of color to do it. They have to reach the heights of Venus and Serena Williams or Simone Biles to even be taken seriously as an athlete, and then that level of exposure and pressure can lead to problems of its own. But women all over the world participate in sports of all kinds. And despite this, women's sports still tend to be ignored or left out of the conversation in America unless it's an Olympic year or something damning happens (see: the Larry Nassar abuse scandal or the recent allegations of sexual coercion that led to the firing of former North Carolina Courage coach Paul Riley). 
"Bend It Like Beckham" reminds us all that women are not second-tier athletes (or citizens) and can be just as good, if not better, than men. And it does this while managing to have universal appeal. The movie brought in more than $76 million at the global box office (on a $6 million budget) and remains the highest-grossing sports film focused on the sport of soccer. That's a good starting point to talk about its overall viability as an ongoing property, but regardless of its ability to appeal to viewers, it also tells an inspiring story that puts a positive spotlight on women athletes and the unique challenges they face, which remains undercovered by the media. It's for this reason that Alex Morgan, Sue Bird, Chloe Kim, and Simone Manuel formed Togethxr, a new media company whose mission is to give women a platform of their own and the exposure they need to inspire the next generation of young girls.
It's upsetting that four of the world's best athletes had to form their own media company just to have their voices heard. And yet, it's not all that surprising either. Women have been forced to do it for themselves since the beginning of time. Billie Jean King established the Women's Sport Foundation in 1974 to promote gender equality and opportunities for women in sports. And in a 2003 interview, "Bend It Like Beckham" writer and director Gurinder Chadha said Beckham's ability to bend the ball was "a great metaphor for a lot of us, especially girls. We can see our goal but instead of going straight there, we too have to twist and bend the rules sometimes to get what we want." 
While the women of "Ted Lasso" — Hannah Waddingham's Rebecca Welton and Juno Temple's Keeley Jones — appear to have fared better in that regard, they are still forced to play supporting roles in what is arguably a (white) man's story. And there's no need for women to be in this position in 2021.
So, if anyone out there is looking for a well-regarded piece of intellectual property to adapt for TV, please take a closer look at "Bend It Like Beckham" and the inherent lessons within its story. Even now, nearly 20 years later, the film remains relevant, compelling and heartfelt as it digs into the complexity of family, following one's dreams, discovering a cultural identity and prioritizing women's sports. You'd be hard-pressed to find something better or more worthy of being adapted and updated in the current TV climate. Someone just needs to take a chance on it the way Jules took a chance on Jess in the park nearly 20 years ago.
"Bend It Like Beckham" is available to stream on HBO Max. "Ted Lasso" streams on Apple TV+.