If you're old enough to have watched "Head of the Class," the ABC sitcom that ran from 1986 to 1991, you probably remember it as a charming comedy about a classroom of wise-cracking gifted students and their worldly-but-unfulfilled teacher, played first by Howard Hesseman in his post-"WKRP in Cincinnati" years, then (in the series' final season) by Billy Connolly. The show launched the careers of Robin Givens; veteran television actor Khrystyne Haje; Dan Schneider, who produced a generation of Nickelodeon hits; and Brian Robbins, who later became the CEO of Paramount Pictures, among others. "The funny premise and Hesseman's laid-back way with a line," Time magazine gushed about the series' pilot, "make the show one of the most promising comedies of the fall."
Beneath its gag-lined surface, however, "Head of the Class" hid a progressive agenda that may seem even more relevant today than it did during its original run through the anti-intellectual Reagan era. (HBO Max seems to agree. The network's new take on the series, inspired by the original, premiered Nov. 4.) A great deal of that agenda came from series co-creator Michael Elias, a political activist and an underappreciated artist with a body of work that encompasses much more than a single sitcom.
"I don't think of Michael as a comedian," his good friend Steve Martin told Salon. "I think of him as a real writer." To truly understand "Head of the Class," you need to know the genuine Elias.
RELATED: Jackie Mason's thorny career: Once a beacon for Jewish pride, the comedian later turned to bigotry
Born into both comedy and politics, Elias grew up in the Catskills, where his parents — a doctor and a librarian — were active in a variety of left-wing causes. Their neighbor, Elias' godmother, owned a Borscht Belt resort called Chester's that catered to socialist Jews, bringing in blacklisted entertainers like Zero Mostel and Paul Draper. Elias and his family never missed the resort's annual arts festival.
"Mel Brooks used to come up to spend the week and talk about comedy," Elias told Salon. Brooks' visit ignited a deep desire for a career making people laugh.
After college, Elias moved to New York City, studied acting with Uta Hagen and Lee Strasberg, and joined the Living Theatre, a revolutionary experimental performance group. As a cast member of the group's 1963 production of "The Brig," an anti-war play about the Marine Corps that was raided by federal marshals, Elias was arrested and held for several days in the same federal penitentiary that once housed Julius Rosenberg.
In the late 1960s, while he was studying improv, Elias met his first comedic partner, Frank Shaw. "Whenever we would pair together, we would be pretty funny," said Elias. So at Shaw's suggestion, they started an act. Elias and Shaw cut their comedic teeth in small clubs and bars, then started playing hip venues like Upstairs at the Downstairs and The Duplex, appearing on "The Ed Sullivan Show," "The Merv Griffin Show" and "The Tonight Show," and touring with musicians like The Turtles, Janis Ian and Phil Ochs.
---
Want a daily wrap-up of all the news and commentary Salon has to offer? Subscribe to our morning newsletter, Crash Course.
---
Soon they made their way to Los Angeles, where they both started writing for television. Elias joined the staff of "Pat Paulsen's Half a Comedy Hour," where he befriended another young writer who would go on to play a major role in his career: the aforementioned Steve Martin. In the 1970s, as Martin rose to prominence — becoming what Elias called "the first rock and roll comedian" — the two men became frequent collaborators. Elias wrote material for the wild and crazy guy's stand-up routine, then co-wrote the script for his breakout feature film, "The Jerk." 
"He's a good laugher, and that really helps with a comedy writer, the laughing," said Martin. "He can deliver the goods."
While Martin's comedy has always been known for steering clear of politics, however, Elias steered right into it, living a double life in Los Angeles. "By day I was a writer in Hollywood," he confessed, "by night I was a mini-revolutionary."
He and his wife provided refuge for a member of a radical left-wing militia called the Weather Underground who was wanted for trafficking in dynamite. Eventually, Elias was subpoenaed to testify before John Mitchell's grand jury, which was seeking to root out the members of the activist left. As fate would have it, though, Mitchell's own crimes connected to covering up the Watergate break-in saved him. "I would probably have gone to jail," he said, "if it weren't for John Mitchell going to jail before me."
RELATED: 12 surprising facts about Mel Brooks
Elias made the most of his narrow escape from punishment. He became Carl Reiner's writing partner on "The New Dick Van Dyke Show." He joined the writing staff for "Black Bart," a short-lived attempt to make "Blazing Saddles" into a weekly sitcom, which reunited him with his childhood inspiration, Mel Brooks. In 1979, he and Shaw had their biggest hit with "The Frisco Kid," the story of a sweet-but-naive Polish rabbi who travels across America with the guidance of a lawless cowboy. Starring Gene Wilder and Harrison Ford, the film became a Jewish American comedy classic. Elias and his new writing partner Richard Eustis followed up in 1982 with "Young Doctors in Love," a film that spoofed medical dramas like "General Hospital" and "St. Elsewhere."
A few years later, Elias and Eustis were asked to write a new show about a high school teacher and his class. They agreed, but only on one condition: the students had to be smart.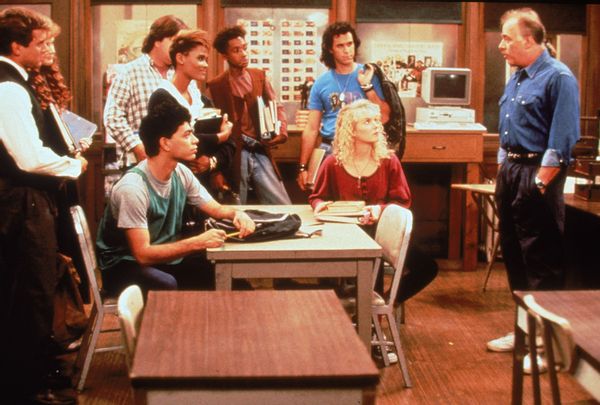 Howard Hesseman faces members of his class in a still from "Head of the Class" circa 1986 (Fotos International/Courtesy of Getty Images)
Right from the start, "Head of the Class" reflected Elias' progressivism. "All comedy is political," Elias offered, but "Head of the Class" was more than that: it was subtly radical.
Rain Pryor, who played Theola June "T.J." Jones — a Black student who was initially assigned to a remedial class before her intelligence and pluck forced the school to reconsider — appreciated the "very politicized voice" they gave her character. "That they allowed me to wear African symbols and to make those statements in class is pretty phenomenal," she told Salon. The classroom set was dressed with a photograph of Malcolm X, and when the network censor told him to take it down, Elias said he'd be happy to comply . . . as soon as they wrote an official letter saying he had to. The letter never arrived.
The show's diverse student body also included a white student named Alan Pinkard who served as the classroom conservative. Pinkard's presence allowed the show's writers to model thoughtful political discourse about issues like sexism, gun violence, and economic inequality, while clearly supporting left-wing positions.
"The show had a liberal bent," Elias said, "and an anti-Reagan bent."
That particular leaning inspired Elias to make the show groundbreaking in an unexpected way. In 1988, during Perestroika, "Head of the Class" became the first American sitcom to film in the Soviet Union. A third-season episode called "Mission to Moscow" helped to humanize a group long demonized by American conservatives: the Russians. It's not hard to see echoes of Elias' socialist childhood in the episode's two-part storyline. "How I was raised, where I come from, I hope that's in my comedy," Elias said.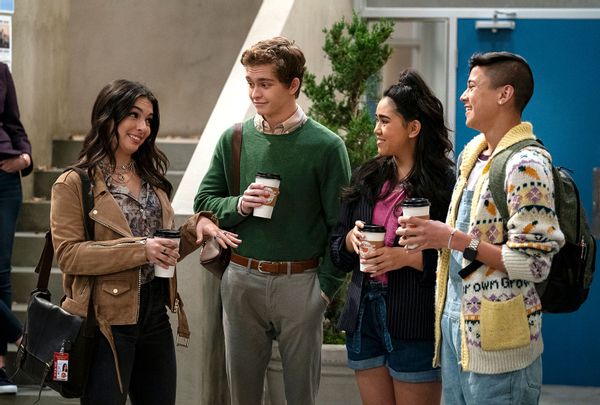 Isabella Gomez, Gavin Lewis, Jolie Hoang Rappaport and Adrian Matthew Escalona in "Head of the Class" revival (Nicole Wilder/HBO Max)
The new HBO Max revival seems to be more social than political. According to executive producers Amy Pocha and Seth Cohen, the stars of the series are still a group of students "who are driven and want success in their lives," along with their world-weary teacher. The show's writers, however, are taking their cues less from politics than from life in the digital age, wrestling with everything from cancel culture to the intersection between cliques and social media. Still, the new show doesn't stray far from its origins. (Robin Givens is even returning as the mother of a student who attends the new school.) Elias and Eustis, said Pocha, are "comedy kingpins," and the new show promises to honor the heart of the old one.
After the original series' five-season run ended, Elias' work took a serious turn with "Lush Life," a Showtime movie he both wrote and directed about a jazz musician (played by Forest Whitaker) dying of a brain tumor. Not long after "Lush Life," Elias made yet another artistic transformation. Having tackled acting, directing, sketch comedy, and writing for stand-up, television, and film, he became a playwright, penning "The Catskill Sonata," a story about Jewish communists coming to grips with the horrors of Stalin that recalled his rich comedic and political childhood. (The play's 2007 premiere was directed by Paul Mazursky.) Later, he evolved creatively once more, publishing two novels: "The Last Conquistador" in 2013 and "You Can Go Home Now" in 2020.
"That's not an easy transition to make, from sketch writing to sitcom writing to novel writing," Martin said of Elias. "Those are sophisticated leaps."
While Elias may be remembered best for comedies like "Head of the Class" and "The Frisco Kid" — "He is wildly funny," said executive producer Cohen — he has always been more than just a humorist. His jokes are undergirded by a commitment to creating a more caring and inclusive world.
While many '80s and '90s sitcoms, from "Cheers" to "Friends," sorely lacked diversity, thanks to Elias, "Head of the Class" looked more like America. The show's gifted and talented student body, much like the cast of the show's spiritual predecessor, "Welcome Back, Kotter," was intentionally diverse. Happily, the new series — which stars a woman of color, "One Day at a Time" reboot alum Isabella Gomez, in the teacher role — seems to have captured Elias' revolutionary but playful spirit. It should be a fitting tribute to his vision.
More stories you might like: 
CORRECTION: An earlier version of this story incorrectly reported Elias' writing partner on "The Frisco Kid." The story has been updated.