Over the past few months, women have bled out from caesareans they did not consent to. We've seen them die delivering babies conceived through rape or take their own lives if the birth isn't going according to plan. They've had doctors ignore their wishes and their requests for more information. They've walked out of their birth recovery areas while still excreting placenta.
And these are just the women we've seen on TV.
"Viewers begin to then make sense of birth through this very dramatic lens versus the reality that births are experienced."
In 2022, the same year that the Supreme Court determined that the United States constitution does not include a right to abortion, television has been overrun with traumatic births.They include a show set in the fantasy space, HBO's "House of the Dragon," and one set in dystopia, Hulu's "The Handmaid's Tale." We see it happening to a Black woman who is enslaved on an 1800s plantation on FX on Hulu's "Kindred," and to an upper-class white Manhattanite living in the recent past, on FX on Hulu's "Fleishman is in Trouble."
The timeliness is coincidental; all of these episodes were already in the works before the Supreme Court's decision was announced. Yet, they are still far cries from what used to be the TV standard, the "jokey birth that we would see on television where there's screaming and yelling at our husband," says Rebecca Ortiz, an associate professor at Syracuse University's S.I. Newhouse School of Public Communication who studies entertainment media's effects on sexual health and women's health.
Though childbirth has been a TV plotline since at least Lucy Ricardo and Little Ricky, Planned Parenthood's national director of arts and entertainment engagement Caren Spruch argues that audiences are "starting to see onscreen a larger range of what birthing actually looks like for people across race, gender, class and sexual orientation, and a wider variety of birth outcomes — such as stillbirth and other prenatal or maternal complications."
But with horrifying birth stories all too real these days, Oritz says, these scenes can make for good drama that clouds reality: "People who are viewers begin to then make sense of birth through this very dramatic lens versus the reality that births are experienced in all these different ways."
The award for most graphic birth trauma scenes, at least in regard to the news coverage they generated, goes to HBO's "House of the Dragon." In the "Game of Thrones" prequel's premiere episode, Sian Brooke's confused and terrified Queen Aemma dies in a bed of blood after her husband (Paddy Considine's King Viserys Targaryen) orders a definitely not medically sound C-section. The sixth episode shows her daughter Rhaenyra (Emma D'Arcy) hobbling around a castle while still leaking amniotic fluid and blood minutes after giving birth, and later another relative, Laena Velaryon (Nanna Blondell), chooses to have a dragon incinerate her and her unborn child after learning that she'd probably die in delivery.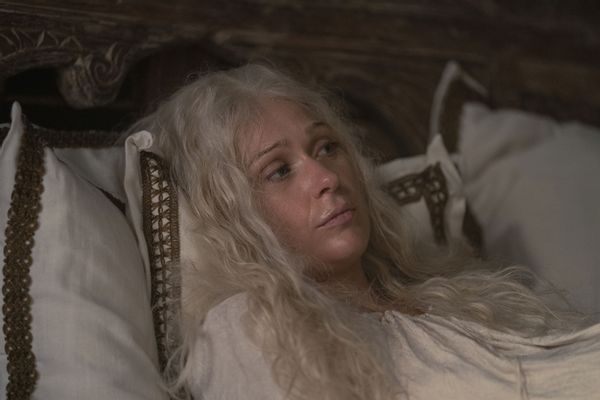 Sian Brooke as Aemma Arryn in "House of the Dragon" (Ollie Upton / HBO)"Dragon" executive producer Miguel Sapochnik, a "Game of Thrones" veteran who directed the series premiere and served as co-showrunner for the first season — and who, famously directed intense "Thrones" war moments like the bloody Season 6 episode "Battle of the Bastards" — told the Los Angeles Times that "each birth in this show has a theme, just as the battles I've filmed in the past have a central concept," He added and that "the hope and intention of the show . . . is to shine a light on how the experience of men and women in this world has parallels to our own past and present."
In fact, they were so visceral that they caused USA Today TV critic (and new mother) Kelly Lawler to equate them to "Game of Thrones'" notoriously brutal rape scenes. In a column published after "House of the Dragon's" sixth episode, she wrote that in these scenes, "The spectacle of the violence was the focal point. So was the pain and trauma of the woman, not realism or the experience of the mother. The sequences felt like they were there for shock and awe, not for thematic or character reasons."
"Birth is a dangerous miracle and, to show it on television, you have to show both parts."
"House of the Dragon" also premiered a few weeks before the start of the fifth season of Hulu's "The Handmaid's Tale," which already had a reputation for depicting gruesome and violent attacks against women, since the show's entire premise is women fighting back after being kidnapped, held captive and ritualistically raped. But the season's seventh episode was the first time the program portrayed a handmaid dying in childbirth. 
In a flashback told from the point of view of Elisabeth Moss' June, a fellow handmaid (portrayed by actress Catherine Saindon) tries to complete the home birth preferred by the puritanical overlords who run their country of Gilead. She's too far gone by the time medical reinforcement is finally called in to save the child, and dies on a gurney used as a makeshift operating table set up in a corner of the house.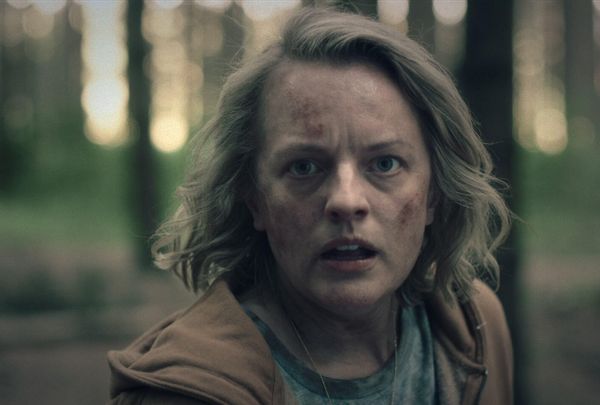 Elisabeth Moss as June in "The Handmaid's Tale" Season 5, Episode 7 "No Man's Land" (Hulu)"My feeling was always that they prioritize the life of the baby over the life of the mother," Miller says of Gileadians' presumed motives. He adds, "It couldn't be more on the nose about what everybody [in the real world] is talking about.  . . . Birth is a dangerous miracle and, to show it on television, you have to show both parts."
Just as important as the question of whether traumatic scenes should be shown on TV is just how much of them to show. 
Hulu's "Kindred," an adaptation of the Octavia E. Butler novel, follows a 20-something woman (Mallori Johnson's Dana James) who suddenly possesses the ability to travel back in time to witness the atrocities inflicted upon her ancestors who were enslaved on a tobacco plantation. The show introduces the character Celeste (played by Camille Robinson), an enslaved woman forced into a sexually abusive relationship with the plantation owner (Ryan Kwanten's Thomas Weylin). She dies birthing their child.
"I also wanted to encourage an expansion of the way in which we think about violence and how it is enacted on people."
"Kindred" showrunner Branden Jacobs-Jenkins writes via email that Butler's book mentioned a "character witnessing a tragic birth," and adds that historical data showed that "enslaved men outnumbered enslaved women on these work encampments at a rate of about three-to-one, and that women were maintained, in a large part, for the purposes of breeding. Which meant that pregnancy was, on some level, part of a woman's 'work.'"
Celeste's death scene in the show's sixth episode is inarguably disturbing, but certainly not quite as graphic as other scenes mentioned in this article. It also bring up the challenges and debates of how to – or if a show can or should – remind audiences of Black people's generational trauma without exploiting it.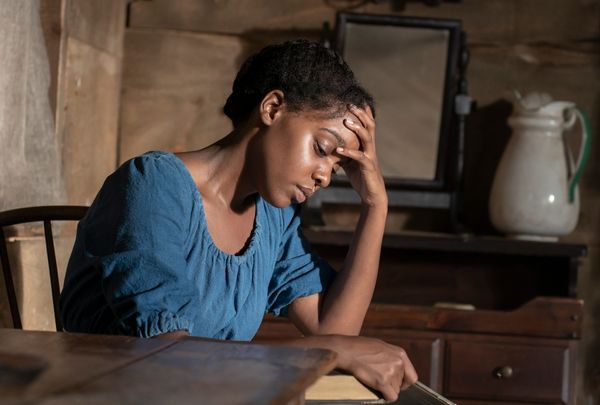 Mallori Johnson as Dana in "Kindred" Episode 6, "Celeste" (Tina Rowden/FX)Jacobs-Jenkins, along with episode writers Joy Kecken and Noah Rubenstein and director Destiny Ekaragha, is deeply engaged with broader questions about what it means to depict violence against Black people. 
"I just wasn't — and still am not — interested in aestheticizing or sensationalizing it," he says, adding, "I'm more interested in the experiences of the victims; bringing an audience as close to the experience of the suffering as opposed to letting them stand back, watch and ultimately admire the display.
"I also wanted to encourage an expansion of the way in which we think about violence and how it is enacted on people," he continues, and adds, "The horrors of slavery were bigger (and in ways, more insidious) than whippings and sexual assault. I think our inability to wrap our minds and imaginations around that might be why we are still haunted as a culture by it."
Jacobs-Jenkins and Miller may run TV shows that are set in the past or in an alternate timeline, but that doesn't mean that these plotlines are outdated or catastrophizing. In December, health care foundation The Commonwealth Fund released data that tracks not only how bad maternal mortality rates are for people in the U.S. versus other high-income countries and that Black women are disproportionately impacted.
"Sensationalism shouldn't be an end goal when it comes to people's sexual and reproductive health."
Television is a deeply personal medium because it has the power to enter our homes. Some creators have claimed this as an opportunity to share their own experiences with something that used to be kept so private. A few years ago, the third season finale of the ABC comedy "Black-ish" focused on Tracee Ellis Ross' Bow, who experiences preeclampsia and has to have an emergency C-section to prematurely deliver the family's youngest son. It was inspired by creator Kenya Barris' own experience when his wife, Rainbow Edwards Barris, had their sixth child. 
The recent limited series "Fleishman is in Trouble," which creator Taffy Brodesser-Akner adapted from her best-selling novel of the same name, also involves a traumatic birth scene that's based on the writer's lived experience. 
In the series, it's revealed that talent agent Rachel (Claire Danes) has her water broken without her consent by a doctor who ignores her protests and demands for clarity on the situation. She winds up with an emergency C-section.
Prior to foisting this mental damage onto a fictional character, Brodesser-Akner's experience delivering her first son was similar to that of her character's. She wrote about her own birth trauma delivering her first son for Self magazine and Salon, revealing in the latter that she was diagnosed with PTSD because of the delivery. It's also something that's still with her even though she also chose to revisit the horror in "Fleishman" and had long conversations about it with Danes and Valerie Faris and Jonathan Dayton, the married couple who directed the two episodes that show the birth. Brodesser-Akner cried reading all book and TV drafts of the scene and even ran off set in tears when a related scene was being filmed.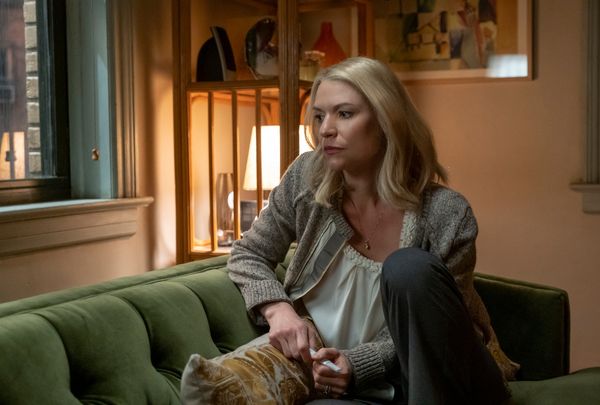 Claire Danes as Rachel Fleishman in "Fleischman Is in Trouble" Episode 3, "Free Pass" (Linda Kallerus/FX)"I think that the essence of the kind of trauma that keeps showing up in somebody's work is that you keep trying to metabolize it and try to prevent it so that you could see it and get your head around it," she says, adding, "I don't know if exposure to it makes it better. All I can say is that, if you look at this show as a city built to someone's trauma and as the ultimate exposure therapy, I can tell you right up until the last time I saw it — which was on a soundstage — I don't think it made anything better for me."
Conversely, because TV is not as much an act of escapism as going to a movie theater, do these creators have any added responsibility when it comes to depicting trauma?
Planned Parenthood's Spruch says, "Sensationalism shouldn't be an end goal when it comes to people's sexual and reproductive health," and that while it's critical to accurately show birth scenes, "careful thought and sensitivity are also required because these types of scenes can be traumatizing or retraumatizing for some people who have experienced pregnancy or birth complications."
---
Want a daily wrap-up of all the news and commentary Salon has to offer? Subscribe to our morning newsletter, Crash Course.
---
Media professor Ortiz says that dictating what someone can or cannot create verges into what she perceives as "cancel culture," but that artists and creators of all art forms have to remember that, no matter their intentions, "once they put it out to the world, it becomes the audience's perspective."
Brodesser-Akner laughs a bit when she says,"To imagine that television has responsibility is to imagine it's a lot more organized." However, she adds, "We have become a society that, in the conversations about representation, have decided that everything should be represented. And that is how we get from like glib, hilarious versions of birth" to something more serious.
Her hope is that her show – the only show mentioned here set in our modern reality and also doesn't depict a birth ending in death – will find its way to people who went through something similar so that they know they're not alone. That's what happened when her articles were published.
Still, she's hesitant to equate these facts to any kind of power.
"My power was that I had the ability to not let people think that this was an episode of another kind of mental illness," she says.
And there is truth to that power.